Atkinson to Jemison Deed of Conveyance
This indenture made this tenth day of January one thousand eight hundred and eleven between Abner Atkinson of the state of Georgia and County of Hancock of the one part and William Jemeson of the state aforesaid and county of Twiggs of the other past wi_____ that for an inconsistuation of the sum of five hundred and fifty Dollar to me in hand paid by sd Jemison the receipt where of is hereby acknowledged hath bargained sold aliened conveyed and declared unto unto the sd Jemison all that tract or lot of land lying and being in the County of Twiggs I the twenty fourth district of old Wilkson known and distinguished in the plan of 3rd District by lot No, one hundred and twenty eight draw by Benjamin Humphrey with such amrks and shapes as well more fully appear by the plat and grant anxd ---- To Have and to hold the land and premises aforesaid with___ and regular the right members and apportainences, there unto be laying or appertaining and I the sd Atkinson do warrant and forever defend the rite title and claim of the land aforesaid from my self my heirs and all and every other person or persons whatsoever to the sd William Jamison his heirs and assigns forever in fee simple in witness whereof I have hereunto set my hand and affixed my seal this year above written
Signed sealed and delivered in Abner Atkinson {seal}
Presents of
Lewis Atkinson
Arnold Atkinson

Georgia
Hancock County
Personally appeared Arnold Atkinson one of the witnesses to the matter deed and being duly sworn saith tht he saw Abner Atkinson sign the written deed for the purposes therein ______

Arnold Atkinson

Sworn to the 11th
Aug 1817 Before
John Turner J. J. Co.

Georgia
Twiggs County

Recorded in the Clerks of the Inferior Court in Book K Page 95 May 1818
Arch McIntyre Clk
Will
Georgia
Hancock County

In the name of God Amen I Abner Atkinson of the county and state aforesaid being of sound mind and memory do make ordain constitute and publish this my last will and testament revoking all others by me heretofore made allowing this to be my last will and testament in manner and form following;

Viz Item 1st I give and bequeath unto my son Cornelius Atkinson five negroes wiz Hannah, Grace and her two sons Sam, Solomon and Starling boys all this in addition to what he has already received of me.

Item 2nd I give an bequeath unto my son Lewis Atkinson nine negroes viz Sam an Isbel his wife, Ellick, George and his wife Vincy, Charles, Washing boys, Cherry and her children Jacob in addition to what he has already received from me to him and his heirs and assigns forever.

Item 3rd I give and bequeath to the heirs of my daughter Sally Cook (wife of Nathan Cook) viz the heirs of her body six negroes viz Spencer a man Milley a woman and her three children Clem, Alford and Ned boys and Caroline a girl in addition to what I have already given to my said daughter to them the heirs of her body of said Sally Cook to them and their heirs forever.

Item 4th I give and bequeath unto my daughter Lurany Lundy seven negroes, viz, Moriah Middy woman and her four children Polly Silvy Corsy and Linny & Charlotte in addition to what she has already received of me heretofore to her and her heirs forever.

Item 5th I give and bequeath unto my son Elbert Atkinson ten negroes, viz, Willis Daniel Isaac men, Esther a woman and her six children Amy, Fanny, Nelly, Arthur, Henry and Warren. Also the tract of land on which I now live containing by estimation one thousand and twenty seven acres of land more or less to him the said Elbert Atkinson to have and to hold forever in fee simple. Also his choice of one of my horses one hundred barrels of corn, two feather beds and furniture to him and his heirs and assigns forever.

Item 6th I give unto my grand daughter Lucy Cook daughter of Elizabeth Cook one negro fellow named Frank to have and to hold forever in fee simple.

Item 7th I give and bequeath unto my grand daughter Matilda cook daughter of Elizabeth Cook one negro woman named Lees to have and to hold for ever in fee simple.

Item 8th It is furthermore my will that all my stock of every kind or any other pieces of property that has not been otherwise disposed of in this my last will and testament shall be sold by my Executors and the money arising from the sales thereof to be equally divided between my legitimate children, Elizabeth Cook, Cornelius Atkinson, Lewis Atkinson, Sally cook, Lurany Lundy and Elbert Atkinson that is the balance left after paying all legal demands against my estate.

I do herby ordain constitute and appoint my trusty friends Thomas Lundy and Starling Evans Executors to his my last will and testament. In witness whereof I have here unto set my hand and affixed my seal this 24th May 1820

Signed and acknowledged Abner Atkinson {seal}
In presence of
George Collins
Spencer Watts
Aquilla Evans

The within will duly proven before us this 15th day of September 1821 by the oaths of all the subscribing witnesses and ordered to be filed in office until the next court of ordinary

Barnaby Shives J.J.C.
Micajah Thomas J. J. C.

Georgia
Hancock County } Inferior Court Setting for Ordinary purposes 1st October 1821 Present this Honor
Barnaby Shivers
Malcom Johnston Justices
Micajah Thomas


And now at this turn came Thomas Lundy and Sterling Evans nominated executors in the last will and testament of Abner Atkinson dec having proved the said will in vacation and present the same for record and themselves to be qualified upon which Benjamin cook in right of his wife presented his caveat by his attornies to the recording of the same and the qualification of said Executors whereupon the court having considered said caveat and the arguments of counsel, thereupon do _____ the grounds taken in said caveat insufficient & ordered said will to be recorded and said executors to be qualified.

Benjamin Cook caveator in right of his wife of the last will and testament of Abner Atkinson dec being dissatisfied wit the decision of the court came forward said all cost and prayed an appeal which is granted and George Horton entered himself as security for all future cost that may accome in said case.

Signed Benjamin Cook Geo Horton

Georgia Clarks Office of Hancock Court of Ordinary 19th September 1821

Benjamin Cook one of the heirs and legal representative (in rights of his wife), of Abner Atkinson decd now comes by T & C Haynes his attornies and caveaty the proving the pretended last will and testament of the said Abner Atkinson dec upon the following grounds to wit,
1st Because since the making & executing the said will the said Abner Atkinson gave and delivered to his son Cornelius Atkinson the following negroes namely Grace, Sam, Solomon & Starling which said negroes were given and delivered by the said Abner Atkinson long prior to his death which said negroes are given and disposed of by the said Abner Atkinson in the first clause of said will and by reason of the girft and delivery of said negroes, the estate of said dec has been materially changed and it has been thereby rendered impossible to carry said will into effect.
2nd Because after the making of said will the said decd declared that he was not satisfied with the provisions of the same and that he intended to make a different disposition of his estate thereby revoking the same.
3rd. Because by the third clause of said will the said Abner Atkinson has attempted to create an estate tail which is contrary to the laws & constitution of said state and that said will is thereby rendered null & void.
4th That one of the negroes as aforesaid given by said Abner in his lifetime to said Cornelius Atkinson has been since the making of said will delivered of a child, which is not mentioned in said will & which cannot go to said Cornelius Atkinson by virtue thereof and that by reason of said gift and delivering of said negroes before named and of the child aforesaid the other heirs are prevented from any distribution of said child according to the tenor & effect of said will, which according said will a nullity & prevents the same from ever being carried into effect according to the provisions thereof.
5th That the estate of the decd has been so materially changed from the time of making said will until the death of the testator that the same cannot now be carried into effect according to his evident intentions at the time of making the same.
Thomas Haynes
Chrles E. Haynes
Attys for Cavestor

Benjamin Cook being duly sworn saith that since he filed his caveat against the proving the last will & testament of Abner Atkinson decd fact have come to his knowledge which afford new grounds of caveat thereto, to wit, That the said Abner Atkinson was not in his right mind at the time of making said will & that he was induced to make the same by reason of the under & improper influenced & ___sions of other persons being his heirs – and that from the absence of a proper state of mind & understanding – and from the exercise of _______ and improper influenced of other person, he was induced to execute said will & that the provisions of the same are not according to the will & intentiary of said Abner Atkinson where in his right mind and unbiased by improper influences –

Sworn to in Open Court
This 10th October 1821 Benjm Cook
Phil L. Linny Clk


Georgia In the Superior Court of Hancock County
October Term 1821

Benjamin Cook Caveator
Vs Appeal from the Court
The Executors of the of Ordinary on Caveat
Last will & testament of
Abner Atkinson decd

It is corrected that the demurrer to the grounds of caveat in the cause be supported nd the appeal dismissed and it is ordered that the executors be qualified.

A true extract from the minutes this 5th day of November 1821

Phill L. Simms Clk

Georgia
Hancock County
Inferior Court Sitting for ordinary purposes 7th January 1822 Present their honors
Nathan Hamilton
John Bension
Malcom Johnston Justices
Barnaby Shivers
Micajah Thomas

Ordained these the nominated executors Thomas Lundy and Sterling Evans in the will of Abner Atkinson deceased be qualified and the said will recorded whereupon the said Thomas Lundy & Sterling Evans were duly qualified as Executors of the said last will and testament


Inventory
Book K Pages 288-289


Book K Pages 290-291

Book K Pages 292-293
Book K Pages 294-295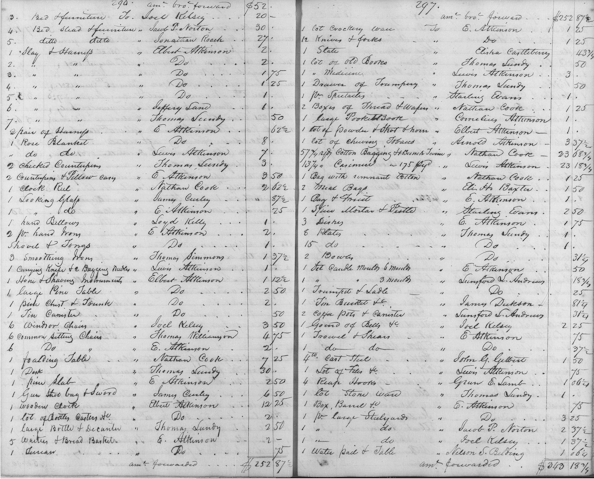 Book K Pages 296-297

Book K Pages 298-299

Book K Pages 300-301

Book K Pages 302-303

Book K Pages 304-305

Book K Pages 306-307

Book L Pages 374-375

Newspaper
Augusta Chronicle
September 19, 1807
List of Drawers in Land Lottery
Hancock County, Georgia

Headright and Bounty Documents 1783-1909
Georgia
By the Court of Justius of the County of Greene,
To William Greer Esqr County Surveyor for sd County
You are authorized and required to admeasure and lay out or cause to be admeasured and laid out unto Abner Atkeson a tract of land which shall contain three hundred and sixteen acres on his family Headrights Taking especial care that the same has not been hereto afore laid out to any or any other person or persons and you are hereby also directed and required to record the plat of the same in your office and transmit a copy thereof together with this warrant to the Surveyor Genl within the term of two years from this date given under my hand as Senr. Justus of said County this third day of Sept 1787
Wm Cochran A J
Test. Hen Graybill C. G. C.

Hancock County Georgia Inferior Court Minutes 1809 - 1833
August 5, 1811


March 1, 1819
Other Atkinsson's In
Hancock County Georgia Inferior Court Minutes 1809 - 1833
Arnold Atkinson
January 1811

Lewis Atkinson
January 1809
Lewis Atkinson
December 31, 1810
Lewis Atkinson
March 3 1817

Lewis Atkinson
December 7, 1818
Lewis Atkinson
January 4, 1819
Lewis Atkinson
July 21, 1821
Lewis Atkinson
July 31, 1826