| | |
| --- | --- |
| | Gloer References In The Mountain Home, Arkansas Newspaper - The Baxter Bulletin |
W. C. Gloer and Christiana Trivitt Marriage
November 28, 1902
March 19, 1937

Mrs. Lucy Ann Thompson

Funeral services for Mrs. Lucy Ann Thompson, who died here Sunday afternoon, were held Monday at the home of her son, W. C. Gloer here conducted by the Reverend O. W. Jadwin, pastor of the Christian church. She is survived by two sons, Chester and John of this place, two daughters, Mrs. W. D. Pressley of this place and Mrs. Edith Morris of Lawrence Kas.; five sisters, Mrs. Julia Cooper, Mrs. Melia Newman, both of this place, Mrs. Etta Leachman of Oklahoma City, Mrs. Sude Inman and Mrs. Allie Johnson, both of Holdenville, Okla., 13 grandchildren and seven great grandchildren. She was born May 25, 1863 in Tennessee and moved with her parents to this county when she was six years of age. She was married to Bill Gloer and after his death to Anderson Thompson, who with seven children, preceded her in death. She became a Christian early in life and joined the Christian church and remained strong and loyal in her faith until her death. She had hosts of friends who admired her for her goodness.
February 14, 1996

Althea Gloer Shearer

Services for Althea Shearer of Mountain Home will be at 10 a.m. Thursday at Roller Funeral Home Chapel with the Rev. Dr. David L. Johnson officiating. Mrs. Shearer died Monday (Feb. 12, 1996) at Pine Lane Healthcare. She was 87.

Visitation will be 9 a.m. – 9 p.m. today at Roller Funeral Home with the family receiving friends 6-8 p.m. Burial will be at Conley Cemetery with Gary Skiver, Warren Haley, Frank Huckabe, Earnest Perry, Wasson Kent and Hylan Mitchell serving as pallbearers.

A lifetime resident of Mountain Home, Mrs. Shearer was born March 31, 1908, in Baxter County, a daughter of the late John L. and Nellie Pettijohn Gloer.

She worked as a sales clerk at Wiseman's Dry Goods. A homemaker, she and the late Ralph Henry Shearer was married Aug. 24, 1924, at Mountain Home. Mrs. Shearer was a member of First Baptist Church. She enjoyed crocheting, quilting, sewing and cooking.

She is survived by a son and daughter-in-law, Henry and Willa Shearer of Newburgh, Ind.; a daughter and son-in-law, Berniece and Joe McLeod of Mountain Home; six grandchildren; nine great-grandchildren; and three nephews. She was preceded in death by her parents, her husband, a brother and a sister.

Memorials may be made to First Baptist Church.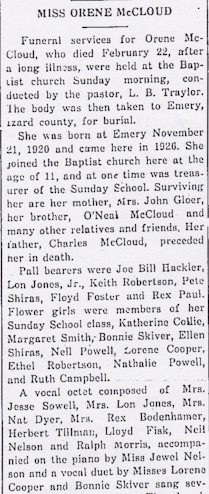 March 1, 1935

Orene McCloud

Funeral services for Orene McCloud, who died February 22, after a long illness, were held at the Baptist church Sunday morning, conducted by the pastor, L.B. Traylor. The body was then taken to Emery, Izard county, for burial.

She was born in Emery November 21, 1920 and came here in 1926. She joined the Baptist church here at the age of 11, and at one time was treasurer of the Sunday School. Surviving her are her mother, Mrs. John Gloer, her brother, O'Neal McCloud and many other relatives and friends. Her father, Charles McCloud, preceded her in death.

Pall bearers were Joe Bill Hackler, Lon Jones, Jr., Keith Robertson, Pete Shiras, Floyd Foster and Rex Paul. Flower girls were members of her Sunday School class, Katherine Collie, Margaret Smith, Bonnie Skiver, Ellen Shiras, Nell Powell, Lorene Cooper, Ethel Robertson, Nathalie Powell, and Ruth Campbell.

A vocal octet composed of Mrs. Jesse Sowell, Mrs. Long Jones, Mrs. Nat Dyer, Mrs. Rex Bodenhamer, Herbert Tillman, Lloyd Fisk, Neil nelson and Ralph Morris, accompanied on the piano by Miss Jewel Nelson and a vocal duet by Misses Lorene Cooper and Bonnie Skiver sang ….