Note: Text (for the most part) was scanned in and this has not been proofread
---
Published by the Presley/Preslar/Pressly Family Research Association
---
VOLUME XII NO. 2 September 1996 Page One
---
The Presley/Preslar/Pressly Newsletter is a publication of the Presley/Preslar/Pressly Family Research Association and is distributed to members and various institutions. Queries and items for publication should be sent directly to the editor for publication as space permits.

Past newsletters are $2.50 a copy, which includes shipping and handling. Inquiries and fees for past newsletters should be addressed to Carol Hicks, Editor.

Applications and checks / money orders for membership should be mailed to Carol Hicks, Secretary.
---
President: Sandra Kelly
Vice President: Patsy Cooley
Treasurer: E. L. Singleton
Secretary/Editor: Carol Hicks
Research Chairman: James E. Anderson
Page 2
Help!
Seeking:

My great-grandfather was Jeremiah Green(e). He was born on 24 Nov. 1855 in NC somewhere. He married Mary W. Pressley on 28 April 1886 in Bullocks Creek, York, SC. Mary was born in Feb. 1869 around York, SC.

Their children are Josephine Greene, Boyd Greene, Arthur Greene and Lucille Greene, who married Roy Montgomery. Another child of Jeremiah and Mary was my grandfather, Lovelace Cornelius Greene. He married Mary Elizabeth Owens.
Lynne Bohman

Anyone able to help Lynne her family from out membership?


Graves at Corinth, Loudon Co. Cemetery, TN for Presley-Giles Families:

Jacob Giles
1 Dec. 1824 - 30 Dec. 1924
Janie Presley Giles
24 Feb. 1846 - 27 Nov 1918

W.H. Brooks
9 Jul 1932 - 15 Jun 1932
Margaret Brooks
8 Dec. 1866 - 1 Nov 1935

W.B. and Susie Giles (twins)
born and died 12 Apr 1905
Berniece Giles
13 Jul 1926 - 15 Jul 1927

William Glick Henderson
7 Mar. 1897 - 6 Jan. 1950
Ed Henderson
5 Oct. 1873 - 18 Dec. 1944
Mary Jane Henderson
3 Sep. 1866 - 6 Jan. 1948
Lee H. Henderson
17 Jun. 1904 - 27 May 1969 ?

T. L. Brooks
29 Mar. 1859 - 6 Sep. 1927
Margaret Brooks
10 Nov. 1863 - 15 Jun 1928

W.L. Doke Bright
4 Jul 1883 - 9 Apr 1951
Julia Bright
19 Dec 1886 - 27 Jan 1960

Joe W. Mitchell
5 Nov 1898 - 21 Jan 1960
EllaR. Mitchell 10 May 1903-
Ebb Mitchell 4 Aug 1904
Bessie Mitchell 14 May 1907-

Robert H. White
21 Jan 1923 - 12 Mar 1975
Marie M. White 7 Oct 1933-

Mitchell, Thomas F
29 Apr 1893 -17 Nov 1965
Martha M. Mitchell 30 Jan 1894

W.L. Brooks
31 Jan 1882 - 2 Jan 1973
Ida Mae Brooks
27 Aug 1893 - 30 Dec 1972

Walter B. Giles
30 Apr 1881 -15 Aug 1956
Susie E. Kagley Giles
22 Sep 1884 - 25 Oct 1968

Wiley Giles
17 Aug 1877 - 4 Sep 1923 (9)
Zula Giles
14 Nov 1882 - 7 Jul 1969
Ernest Lee Giles
12 Oct 1902 - 26 Jan 1961
Carrie Lee Giles 4 Mar 1907-

Andy B Henderson
1878 - 1960
Sallie Henderson, his wife
1877-1960
Ed J Henderson
12 June 1915
Nellie Henderson
29 Dec 1915 - 29 Apr 1979
Josh Henderson
23 Dec 1907 - 29 Jun 1979

Jas C Caldwell
12 Dec 1887 - 14 Jan 1977
Claudia E Caldwell
6 Apr 1894 - 16 Apr 1954

J.E. Dock White
29 Apr 1905
Marybell White
18 Jun 1905 - 9 Jul 1977
T.E. White
10 Oct 1878 - 4 May 1949
Minnie L. White
3 Feb 1884 - 15 Jan 1944

Jesse Kirkland
10 Jan 1880 - 15 May 1944
Fannie Houston Kirkland
5 Jul 1880 - 5 Nov 1943

Ira Brooks
23 Dec 1909 - 15 May 1978
WWII Tec 5 Army
Ben H Brooks
17 Mar 1888 - 2 Jul 1962
Rutha W. Brooks
11 Mar 1893 - 13 Mar 1978

Page 3
Ottis Giles 5 Jan 1905-12 Apr 1975
Delia Giles 10 Jun 1903-22 Jan 1972

Alice Henderson 7 Nov 1886-24 Nov 1944

Mote D Henderson 28 Dec 1900-6 Oct 1969
Ethel E Henderson 17 May 1902-30 Nov 1944 ma. 24 Dec 1936

Henry C Millsaps 24 May 1889-4 Jun 1964
Celestie J Millsaps 30 Dec 1893-

Warren D Kirkland Sr 30 Jun 1875-24 Mar 1955
Minnie A Kirkland 22 Aug 1880-22 Jan 1962

Walter Kirkland Jr 18 Sep 1881-15 May 1957 ?
Fannie H Kirkland 2 Jun 1890-10 Sep 1963

Paul Amos Snow 2 Apr 1912-4 Feb 1979
Ethel Louise Hooker Snow 6 Sep 1914-

Jas W Bright 27 Jan 1924-31 Oct 1953

Henry H Watts 24 Jun 1899-21 Mar 1977
Mae Watts 1 Sep 1898-

Glen A Bright 30 Oct 1921 -
Shirley A Bright 21 Nov 1935-

T T Jameson 15 Mar 1856-7 Jan 1931
S L Jameson 15 Oct 1857-6 Jul 1936

Elijah M Isbffl 12 Mar 1891-20 Jun 1942

Effie J Isbill 2 Oct 1894-
Jas. Howard Isbill 8 Feb 1926-1 Nov 1947

Jake Bright 16 Jun 1911-12 Apr 1971
Jennie Bright 23 Jul 1910-

R E Davis 4 Feb 1880-27 Dec 1962
Hattie Davis 30 May 1885-14 May 1976

Henry G. Watts 7 Dec 1891-12 Mar 1972
Linnie B Watts 26 Jun 1896-

George C Mitchell 8 Sep 1868-6 Jul 1945
Marusie Mitchell 1 Sep 1877-9 Jul 1961

James T Mitchell 18 Mar 1914-
Ellie Mae Mitchell 7 Nov 1914-24 Ag 1966

Robert Tuck 29 Jul 1909-21 Dec 1969
RessieTuck 10 Dec 1915-
Gladys Mae Tuck 8 Dec 1911-12 Dec 1943 wife of Hobert

Erskin Bright 16 Mar 1915-12 Feb 1976
Edith Bright 14 Apr 1915-26 Feb 1943

John A Bright 1 Sep 1888-18 Oct 1950
Liddie E Bright 14 Jun 1891 -20 Jan 1950

Marshall Giles 3 Apr 1883-14 May 1951
Winnie Craig Giles 20 Jun 1885-6 Dec 1963

Sgt T L Isbill 9 Jun 1835-14 Feb 1914 Co D 3rd Rgt
Menerva Isbill 16 Aug 1839-25 Feb 1944

Joe E. Isbill 23 Dec 1888-16 Dec 1970
Callie Isbill 15 Oct 1900-

Submitted by Minnie Carender
---
The Paladium-Item
Richmond, IN

MEMORIAL OBITUARY

Charles P. Presley
Final rites for Charles P. Presley, 74, of E. Church St., were held Tuesday at the Howard and Son funeral home.

Rev. Roy Carlson officiated and burial was made in Riverside cemetery. Mr. Presley died Sunday. He was a member of Cambridge City Babtist Church.

Survivors include the widow, Martha
Page 4
three daughters, Mrs. Grace Hickman, Cambridge City, Mrs. Merle Wadman, Centerville, and Mrs. Monroe Peacock, Richmond; six grandchildren and 14 great-grandchildren.

Submitted by Minnie Carender
---
Sunday, March 3, 1996

Presley, William Carl "Billl"-age 78, of Knoxville, passes away Friday afternoon at St. Mary's Hospital. Member of Knoxville Mennonite Church. Retired from Fulton-Sylphon Division of Robertshaw Controls after 44 years service. Survivors: wife of 59 years, Addie Mae Presley; sons and daughters-in-law, William J. and Carolyn Presley of Gheen, Minn., Richard M. "Mike" and Marjorie Presley of Knoxville; 10 grandchildren; six great-grandchildren; sister, Nannie Ferguson of Rossville, Ga.; brothers, George, Jack, and Charles Presley, all of Knoxville. Funeral service 2 p.m. Monday, Mynatt's Chapel, Rev. Ed Godshall and Rev Billy McCool officiating. Interment New Gary Cemetery. The family will receive friends 7-9 p.m. Sunday at Mynatt
---
Presley, Clifford Eugene, 82, of Maryville, died at 12:15 a.mu Thursday at Fort Sanders Regional Medical Center.

He was a member of Beech Grove Baptist Church. He was retired from ALCOA and a member of the ALCOA 25-Year Club. He was preceded in death by wife, Alice Presley; and sister, Rosie Sims.

Survivors include his son and daughter-in-law, Bruce and Leoda Presley of Texas; daughter, Marie Deri of New Jersey; daughter and son-in-law, Janice and Ed Owens of Maryville; eight grandchildren; seven greatgrandchildren; brother, Lyman Presley of Georgia; and sister, Mary Belle Hollingsworth of Mississippi.

Funeral service will be at 3 p.m. Sunday in the Trinity Chapel of Smith Mortuary with the Revs. Bob McCullough and Kenny Armstrong officiating. Interment will be in Sherwood Memorial Gardens. The family will receive friends from 1-3 p.m. Sunday at Smith Mortuary.
1 Aug 1996

Submitted by Minnie Carender
---

Charles Perry Presley
Click photo for larger version

Page 5

Guilford Jacob Giles (1842-1924) and wife
Mary Jane Presley (1846-1918)
Click photo for larger version


Pictures submitted by Minnie Carender

Rufus and Evalina Presley Giles
Click photo for larger version

Page 6

Gertrude Presley
Click photo for larger version


Almedia Alice Presley Best
Click photo for larger version


Phillip Henderson and Margaret Presley Henderson
Click photo for larger version

Page 7
The Presley Line

North Carolina Presley Marriages From Hunting For Bears and Others
DATE

10-5-1841
2-2-1836
12-12-1855
10-23-1806
1-1-1833
I-11-1807
9-25-1865
4-29-1854
5-9-1860
4-15-1858
5-24-1858
9-5-1835
3-25-1828
II-4-1824
8-18-1838
10-23-1838
4-6-1802
4-3-1856
3-9-1873
8-26-1818
3-14-1859
9-21-1809
12-24-1871
10-11-1887
11-21-1869
7-18-1799
2-16-1843

GROOM

Presley, Andrew
Presley, Asa
Presley, James
Presley, James
Presley, Thomas
Presley, John
Pressley, Casswell
Pressley, David
Pressley, William
Pressly, Franklin
Pressly, William B
Flenniken, Warren
Henson, Aaron
Henson, Nathan
Henson, Aquilla
Davis, Samuel
Presley, John
Owden, Henry
Wooten, Ervin
Jones, John
West, Job
Williams,Edward
Pressley, Charles
Lance, William Ramey
Jones, William H.
Rock, Abraham
Abbey, Daniel

BRIDE

Yandle, Elizabeth
Fite, Anna
Stephenson, Catherine
Teege, Mary
Henson, Jemima
Runnels, Mary
Rheims, Antinett
Henson, Emoline
Smatheus, Barbary
Meace, Elizabeth
Harris, L. B.
Presley, Jane
Presley, Elizabeth
Presley, Ketty
Presley, Nancy
Presley, Sarah
TayloR, Sally
Presley, Julia
Presley, Sarah Matilda
Presley, Mary
Presley, Rebecca
Pressley, Charity
Rogers, Margaret A
Presley, Emma
Pressley, Mary A.
Presley, Betty
Pressley, Elizabeth

COUNTY

Mecklenburg
Haywood
Haywood
Burke
Haywood
Rutherford
Mecklenburg
Haywood
Haywood
Haywood
Mecklenburg
Mecklenburg
Haywood
Haywood
Haywood
Haywood
Craven
Randolph
Union
Wilkes
Madison-Marshall
Guilford
Buncombe
Buncombe
Buncombe
Mecklenburg
Edgefield Dist
Marriages in South Carolina
11-25-1853
Woods, John
Pressly, Miss
Laurens Co., SC
*************************
A little girl was given two quarters one Sunday. One quarter was for the offering at church and the other was for her to spend. On the way to church, the little girl dropped one quarter and it rolled into the sewer drain. She looked into the drain and shook her little head and said, "There goes God's quarter."
Page 8

Click photo for larger version






Pictures submitted by Minnie Carender

Click photo for larger version



Charles P. Presley
Martha O'dell Courtney Presley

Click photo for larger version

Page 9

Charles P. Presley
Martha O'Dell Courtney Presley
Click photo for larger version


Pictures submitted by Minnie Carender

Martha O'dell Courtney Presley
Lorah Myers Presley Click photo for larger version



Both wives of Charles P. Presley. They were friends and lived a house apart. When Grandpa and Martha were ill, Lorah took care of both of them. Lorah and Martha were distant cousins in the Fritts line.

Youn gamily of John Mack Shaw &
Dicey Presley Shaw
Click photo for larger version

Page 10
Submitted by Linda-Marie Gallery

Charles Everett Pressley
born: 7 June 1900
ma.@ 1930
died: 29 September 1978-Wilrnington, New Castle, Delaware
Parents: John Perry Pressley - Flora Belle Hardy

Wife: Mattie Malissia Holt McNew
born: 8/12 January 1914 VA
Parents: Grant McNew - Emma Holt

Children: 1. Margaret Pressley b. 15 July 1933 ma. Curds B. Tabor

2. Flora Obedia Pressley b. 30 Dec 1931, Beachfork, W. VA ma. John Bunyon Stallard - 26 June 1948 (divorced) ma. 2: Jack English

3. Ronnie Pressley b. 25 April __ ma. Mary ____

4. Roy Alma Pressley b. 12 January _ ma. Mary Low d. 28 Jan 1983

5. John (Red) Pressleyb. 14 April ma. Sue

6. Ruth Pressley b. 12 February ma. Chuck Haglen

7. Carol Pressley b. 28 December ma. Raymond Moorehart (Divorced) Child: Mike

8. Dixie Pressley b. 6 June __ ma. __ Hexter


2. Flora Obedia Pressley
b. 30 December 1931 Beachfork, West Virginia
ma. 26 June 1948 Faywell/Fuzzewell, VA
John Bunyon Stallard b.8 Dec 1921/2 VA d.15 Aug
Page 11
Children of Flora Pressley and John Stallard:

1.LarryWhitt b. 3 Jan 1948 Bluefield, Va ma. Sharon Elaine Conley - 24 Sept 1967

2. Janet Lynn Stallard b. 24 May 1947-49 Bluefield, Va d. lived 1 1/2 days

3. Barbara Ann Stallard b. 1950 Bluefireld, VA ma. James Leathern - 13 Sept 1968 (divorced) Children:
1. Laurie Ann Leathern b. 21 Nov 1969
2. Sheilla Ann Leathern b. 6 Jan 1970

4. Elbert Alan Stallard b. 1 Sept. 1954 Bluefield, VA ma. Susan Patricia Gallery - 30 Dec 1974 (sister to Linda-Marie Gallery)

Want to find more information on John Perry Pressley. It is believed John is related to Elvis Presley somewhere in the same line. Can anyone help with information on John Perry Pressley?

Linda-Marie Gallery
---
An Old Photograph
(Is it your ancestor?)

Compiled by Edwin C. Dunn
The following was printed in the Carolinas Genealogical Society Bulletin by Barbara W. Moore, President (home address: 420 Chambwood Road, Monroe, NC28110):

"In my diggings, I have acquired a picture of A.C. Presley. Mr. Presley is standing beside a tattered Confederate NC Regiment flag. If he is a branch on your tree and you are interested in acquiring a copy, let me know. The picture is 3 1/2 by 5. I have talked with a local photographer about copying the picture. The cost of the picture will depend on the number of you who want a picture of Mr. Presley. It will, of course, be sent at copy cost and mailing. This is not a profit issue, but a service."

Research in my files reveals that A. C. Presley was most likely Andrew C. Presley of Union County. North Carolina Troops, 1861-1865, Vols. XI & IX, reports that he was in Company A, 48th NC Regt. and Company F, 35th NC Regt. The abstract of his military service is as
Page 12
follows: He was born in Union County, where he resided as a farmer, and enlisted in Union Co. in the 48th NC Regiment at age 19 on 15 March 1862. He was wounded in the finger and/or the chest at Sharpsburg, MD, on 17 September 1862. Returning to duty prior to 13 December 1862, he was again wounded in the shoulder at Fredericksburg, VA, after which he returned to duty about 14 October 1863. He was wounded at Bristoe Station, VA about 14 October 1863, returned to duty, and was present with his company in March and April 1864. He was transferred to the 35th NC Regiment on 25 October 1864 where he was present from November 1864 to February 1865. He was captured at Five Forks, VA on 1 April 1865 and confined at Hart's Island in New York Harbor until his release on 18 June 1865 after taking the oath of allegiance.

After the war, Andrew C. Presley returned to Union Co. where he married Ellen P. Helms on 13 August 1865.

The 1870 census of Union Co. reveals him listed as Andrew Preslar, p. 594, with his wife's name as Parmelia (middle name ?):

        270/264          Andrew Preslar	age 26            works in steam mill   born NC
                         Parmelia"          25                                       NC
                         Sanford  "	     4                                       NC
                         Rufus     "	     1                                       NC             


The index to Confederate pensions reveals that he and/or Ellen received a pension from the State of North Carolina (I do not have a copy).

Andrew C. Presley appears to have been a son of Eleazer Presley and probably a grandson of Richard Presley. As noted elsewhere, Andrew Presley, born 1701 in Germany and the son of John Valentine Pressler, arrived in Anson County, NC, around 1751 with three sons: John Valentine, Thomas, and Andrew Jr. The son, Thomas (1730-1808), wrote his will in Anson Co. on 6 March 1808 in which he named two sons: Richard (b. ca. 1754) and Thomas (Jr.) (b. 1766-1849). Soon after his father died, Thomas Jr. moved to Chester County, South Carolina. His name appears once in the Anson County land records in 1820 (DB H2, p. 556) when he sold 100 acres on Cribb's Creek which had been granted to him or his father in 1799 (DB G, p. 9).

Richard Presley remained in North Carolina, but his name does not appear in the Anson County land records. In the 1790 census he was listed in the Fayette District, Anson Co., with one male over age 16, four females over age 16 in the household. In 1794 he was granted 50 acres on Bareskin Fork and 1798 he was granted 150 acres on Richardson's Creek, both tracts then in Mecklenburg County (Land Grant Bk. 85, p. 185 and Bk. 98, p. 87).

Richard Presly was head of household in Mecklenburg Co. in 1800 (p. 587) with one male 0-10, one male 26-45, and two females 0-10, one female 26-45. Richard Pressly was again listed Mecklenburg Co. (p. 42) in 1810 with one male 10-16, one male 16-26, one male over 45; one female 10-16, one female 16-26, one female over 45.

In 1820 Richd Prestly was listed (p. 185) with one male 16-26, one male over 45; one
Page 13
female 0-10, one female 16-26, one female over 45. In 1830 he is listed (p. 324) with one male 70-80; one female 15-20, one female 20-30, one female 70-80.

Richard Presley married Mary Helms, daughter of Tilman Helms & Rachel Craig, according to Sara M. Myers & Sallie C. Pressley, George Helms & Tilman Helms, 1720-1900, History & Genealogy of the Helms Family, Pioneers ofAnson & Mecklenburg Counties, NC (1975, rev. 1981), p. 80. Their children may have included: Eleazer, Eli, Sarah, Isabel. Eli, Sarah, and Isabel all married into the Hargett family. Further research in the Mecklenburg Co. records is indicated to prove this descent of Eleazer from Richard.

In the 1840 census of Mecklenburg Co. (p. 323) Eleazer Prestley is listed as head of household with one male under 5, one male 5-10, one male 15-20, one male 30-40; one female under 5, two females 5-10, two females 10-15, one female 30-40, one female 80-90. In the 1850 Union Co. census (Union Co. was formed from Anson and Mecklenburg in 1842) Eleazer was age 49, wife Nelly age 48, with Milton 20, Elizabeth 19, Matty 17, Selathiel 15, Josephine 15, Phebe 11, Andrew 8, Thomas 4.

In 1860 Union Co. (p. 452) Eleazer was age 58, Nelly 57, with Nancy 30, Salathiel 27, Elizabeth 25, Phebe 20, Andrew 18, and Tho. 15. Living next door was Milton Presley 32, with wife Polly 24, and Jane 10, Sarah 8, Lee 6, Nelly 1.

We see that Andrew had three brothers: Milton, Salathiel, and Thomas. Referring back the North Carolina Troops, we find that a Salathiel Presley of Union Co. enlisted at age 24 in 1861 in Company F, 35th NC Regt. He also was captured at Five forks, VA and confined at Hart's Island, NY. There is indication that he also served in Company A, 48th NC Regt. Salathiel Pressley, born 9 March 1834, died 10 Sept. 1905, is buried in the Pressley Family Cemetery in Union Co. (WPA pre-1914 Graves Index, NC State Archives). He and/or wife Martha J. received a Confederate pension from the State of NC.

Milton Presley of Union Co. enlisted in Company A, 48th NC Regt. in 1862 at age 37. He was wounded at Fredericksburg in Dec. 1862 and died of additional wounds at Bristoe Station on 15 October 1863.

According to Helms Descendants, 1720-1991, by Gerald C. Helms, Sara Myers, & William E. Helms Jr. [1991], Andrew Pressley, b. 1842, son of Eleazer & Nelly, married Ellen P. Helms, daughter of Eliazer W. Helms & Mary (Polly) Helms, b. 1847. They had:

William R. Pressley
Sanford Pressley
Thomas Pressley
Mary Pressley
Martha Pressley

Estate records of Ellen Presley, dated 1879, are in the Union Co. loose estate records file of the NC State Archives.

If anyone can provide further details about this family line, or about any of its descendants, please write to the author or to the editor.
Page 14

Dicey Ann Presley 'Dolly' Shaw
Click photo for larger version


Pictures submitted by Minnie Carender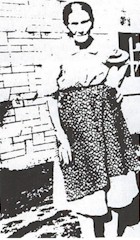 Click photo for larger version


Page 15
Happy Halloween
And
Happy Thanksgiving


From all of the Officers
and
Board Members
Page 16

Henry and Ella Stout Presley
Click photo for larger version




William Ault and Nancy Presley Ault
Click photo for larger version



Reuben Presley
Click photo for larger version

Page 17

Henry Presley and Ella Stout Presley
Click photo for larger version




Henry Presley
Click photo for larger version



Perry Englow 'Pat' Seabort
Pearl Presley McKelvey Seabort
Click photo for larger version

Page 18

Top back:
John P. Presley
Charles P. Presley
Rueben Presley
Henry Presley

Seated:
Sarah Tyler Presley
Lorah Mae Myers Presley holding Mary Margaret,
Amanda Paul Presley holding Ruth
Cordelia Presley

In Front:
Gerogia M.
Grace L.
Pearl Presley McKelvey
Click photo for larger version




Charles P. & Lorah Myers Presley
Lorah is holding Grace L. &
Mary Margaret. Charles is holding Georgia M. Click photo for larger version


Page 19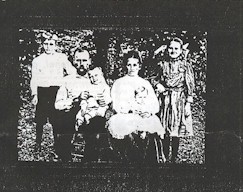 Joe Harrill, seated, holding son Arthur
Sarah Giles Harrill, seated, holding daughter Mary
Standing: left, George Oley; right Gracie Mae
Sarah Giles, dau. of Jake Giles, married to Joe Harrill

Click photo for larger version



Page 20
The preceding Pictures were submitted by Minnie Carender


Click photo for larger version





Click photo for larger version


Submitted by Minnie Carender
Page 21
Rumor has it that there was a time when men were men and women were women, but that apparently wasn't working out satisfactorily. The men and the children made out but the women had some complaints. The first experiment was to eliminate the men. More recently, prevention of newborns has been popular. Rumor also has it that women don't think that this is working out so hot popular. Rumor also has it that women don't think that this is working out so hot either. In other news: A man in California named Adam, last name not available, has petitioned to get his rib back.

Fred Schwartz