Note: Text (for the most part) was scanned in and this has not been proofread
---
Published by the Presley/Preslar/Pressly Family Research Association
---
VOLUME XII NO. 4 March 1997 Page One
---
The Presley/Preslar/Pressly Newsletter is a publication of the Presley/Preslar/Pressly Family Research Association and is distributed to members and various institutions. Queries and items for publication should be sent directly to the editor for publication as space permits.

Past newsletters are $2.50 a copy, which includes shipping and handling. Inquiries and fees for past newsletters should be addressed to Carol Hicks, Editor.

Applications and checks / money orders for membership should be mailed to Carol Hicks, Secretary.
---
President: Sandra Kelly
Vice President: Patsy Cooley
Treasurer: E. L. Singleton
Secretary/Editor: Carol Hicks
Research Chairman: James E. Anderson
Page 2
From the Editor: My apologies for the lateness of this newsletter. Between procrastination and hunting a new business to publish our newsletter at a reasonable price, I have been lax in my duties to get this out in time so I have added a page to make a formal apology.

Another bit of business that has cropped up, is the need for a new President. I would like suggestions or volunteers from the membership to vote on in June. The only qualifications are a little time, the ability to communicate regularly with the other officers through Memos, and the desire to keep this organization going by getting and obtaining new members.

Hope to hear from everyone.

Some of the items I am putting into this newsletter may have been updated, if so I'll be glad to include it in another letter. Am behind in in some of the things that should have been in the newsletter. Again I must apologize to all of the members.
**************************
Query:

Can anyone help me? Who were the parents of Alonzo A. Presley? What was the correct name of his wife?

Alonzo A. Presley
born/bapt. October 12, 1851, GA
ma. September 2, 1875 at Fayette Co., GA
died February 1, 1921 at Fort Worth, TX

Son of: John and Mary Presley (death certificate)

Wife: Eliza Erma or Nellie L or Nancy Lena Rentfrow
born/babt, June 22, 1859, GA
died September 1, 1921, Fort Worth, TX

Daughter of Berket Ren(t)fro and Nancy Miles

Children:
1. Walter Tilden b. 1876, Fayette Co., GA; d. June 1952 Wife: Elsie Moore
2. May b. May 1880, Fayette Co., GA d. December 24, 1970, Sacramento, CA Husband: Thomas McElwaney
Page 3
3. Eddie Thomas b. May 1883,Fayette Co., GA Wife: Bessie Mae Russell - Ma. February 11, 1914, Handley, TX
4. Aquilla Ellsworth b. December 1886, Fayette Co., GA d. January 1951, Fort Worth, TX
5. ErmaLena b. October 1896, Forth Worth, TX d. May 4, 1960, Auburn, CA Husband: Harry George Dolan-Ma. @ February 1923, LA, CA

Submitted by Mary Ann Creason Rohde


From Robert L. Grubbs - (Letter to Annie Presley)

M. B. Presley (my G. G. uncle) was born in Clay County, NC, Oct. 25, 1828, the son of Sanders and Elizabeth (maybe Ruth) (Cromwell) Presley. Lived on Indian Creek (now under water) possibly southeast of Sparta, Term. Sanders died in 1840.

M. B. and Nancy Terry (Walden) arrived at Old Alabam, Madison County, Arkansas, Nov. 7, 1857 with his mother and sister Ruth Elizabeth.

M.B. married Nancy Terry Walden, the daughter of Terry Sr. and the brother (sister) of Terry Jr., May 9, 1947.

At the time they arrived at the Old Alabama Cemetery, three Negro slaves were being buried. They were boating (possibly rafting) on War Eagle Creek at Hays Town (not a town just a farm that had slaves).

M.B. had followed Nancy Terry's father and brother and the country was so poor they started down to the steamboat at Ozark, on the Arkansas River, but met friends (possibly the Caroils) from Tennessee, and returned back to Alabam.

They planned to return to Tennessee, but the war started so they had to stay.

About this time Terry Walden's wife Louisa Doyle died. Natural things happened, and he married Ruth Elizabeth Presley who was a young girl.
Page 4
About all I know is what the family members (said). A lot of these people I grew up with and try to keep in touch with.

My association was with the better ones.

Terry Walden, Sr — son Terry, Jr. —son William Robert — daughter Ruth Elizabeth Walden Grubbs — and I am Robert Lee Grubbs.

Sanders Presley — daughter Ruth Elizabeth Presley Walden — son William Robert Walden — Dau. Ruth Elizabeth Walden Grubbs — Robert Lee.

Carter Hudgins, just North of Madisonville, Term, was my G.G.G. Frandfather, and I', related to the Carters.

Robert L. Grubbs
**************************
William Presley
born: about 1608 in England
married: about 1632

Spouse: Jane Mottrom or Newman
born: about 1613 in England
died: 1649 in Virginia

Child:
Peter Presley
born: about 1640 in Virginia
died: April 19, 1693

Spouse: Elizabeth Haynie or Thompson
Child: Mildred "Milly" Presley born: 1695 in Virginia married: about 1710, Blue Run, Orange County, Virginia died: 1770, Blue Run, Orange County, Virginia Spouse: Alexander Cleveland

Submitted by Zack D. N. Bennett
Page 5
For All Those Born Before 1945
We, that includes our columnist, are survivors - Consider the changes we have witnessed:

We were born before Television, before penicillin, before polio shots, frozen foods, Xerox, plastic, contact lenses, frisbees, and the pill or AIDS.

We were born before radar, credit cards, split atoms, laser beams and ballpoint pens; before pantyhose, dishwashers, clothed dryers, electric blankets, air conditioners, drip-dry clothes, and before man walked on the moon!

We got married and then lived together. How quaint can we be? In our time, closets were for clothes, not "coming out of. Bunnies were small rabbits and rabbits were not Volkswagons. Designer jeans were scheming girls named Jean of Jeanne, and having a meaningful relationship meant getting along well with our family and cousins.

We thought fast food was what we ate during Lent, and Outer Space was the back of the Riviera Theatre.

We lived back before house-husbands, computer dating, dual careers and commuter marriages. We were before day-care centers, group therapy and nursing homes. We never heard of FM radio, tape decks, electric typewriter, artificial hearts, word processors, yogurt, and guys wearing earrings. For us, time-sharing meant togetherness—not computers or condominiums, a "chip" meant a piece of wood, hardware was hardware, and software wasn't even a word! Gay was to be joyous, lively, merry, happy, light hearted—not homosexual.

In 1940, "made in Japan" meant junk, and the term "making out" referred to how you did on your exam. Pizza, tacos, McDonald's and instant coffee were unheard of. We hit the scene when there were 5 and 10 cent stores, where you bought things for five and ten cents—really!!! Sanders and Wilson's or Heine's Sweet Shop sold ice cream comes for a nickel or a dime for a double dip. For a nickel, you could ride the street car or make a phone call, buy a bottle of Coke or pop, or enough stamps to mail one letter and two postcards. You could buy a new Chevy coupe for $600 or Henry Ford's Model "T" for $500, but few could afford one. A pity, too, because gasoline (all leaded) was only 11 cents a gallon! A taxi cost 20 cents in town.

In our days, cigarette smoking was fashionable, grass was mowed, coke was a cold drink, and pot was something you cooked in. Rock music was Grandma's lullaby, and AIDS were helpers in the principal's office.

We were certainly not before the difference in the sexes was discovered, but we were surely before the sex change. We made do with what we had. And we were the last generation that was so dumb as to think you needed a husband to have a baby!

No wonder we are so confused and there is indeed a generation gap today! But we survived! What better reason to celebrate?

By Ralph T. Briggs, Genealogist & Historian, Family History Column
Page 6
I am sending this Presley history as I received it.

Mildred Hicks:

Jane Newman b. England 1613 m. 1632 married William Presley b. 1608 England d. Dec. 1655

1. William, Jr b. ?? d. 1685
2. Peter, Jr. b. 1640 d. 1693 married 1660 Elizabeth Thompson b. 1644 Northumberland County, VA.

This information that was sent to me has two lists of children for Elizabeth Thompson and Peter Presely—maybe someone can help us out on this, and then we can get the straight of it somewhere.

Elizabeth Thompson b. Northumberland Co., VA. 1644 m. Northumberland Co., VA 1660 Peter Presley b. 1640 d. 1693 April 19 Northumberland Co., VA

1. Elizabeth b. 1662 northumgerland Co., VA m. John Cockerill
2. Jane b. 29 June 1664 Northumberland Co., VA m. Christopher Neale b. 23 June 1671 Northumberland Co., VA
3. William b. 1665 Northumberland Co., VA
4. Ursula b. 1667 Northumberland Co., VA m. 1695 Daniel Neale b. 26 July 1673 Northumberland Co., VA
5. Sarah b. 1670 Northumberland Co., Va
6. Mary b. 1673 Northumberland Co., VA m. Charnock Cox
7. Milly b. 1675 northumberland Co., Va
8. Peter, Jr. b. 1683 Northumberland Co., VA

Page 7
List 2: Elizabeth Thompson
b. Northumberland Co., VA 1642
Parents: Richard Thompson Ursula Hish
m. Norhtumberland Co., VA 1660

Peter Presley
b. 1640 VA
d. 1693 April 19 Northumberland Co., VA
Parents: William Presley Jane Newman

1. Elizabeth b. 1662 Northumberland Co., VA m. John Cockerill
2. Jane b. 29 June 1664 Northumberland Co., VA m. Richard Rogers
3. Ursula b. 1667 Northumberland Co., VA m. Whorton Ransdall
4. Mary b. 1670 Northumberland Co., VA
5. Milly b. 1670 Northumberland Co., VA
6. Peter b. 1683 Northumberland co., VA

********************************

Elizabeth Presley
b. 1662 Northumberland Co., VA
d. & b. Northumberland Co., VA
m. Ebenezer Saunders

Parents: Peter Presley
Elizabeth Thompson

1. Edward
m. Winifred
ch: Elizabeth

2nd List:

Elizabeth Presley
m. John Cockerill
1. John Jr. b. 1695

Page 8
2. Hannah m. 1723 Alexander Morehead

3. Thomas b. 1699 Westmoreland Co., VA d. 1778 m. Elizabeth Ramey

4. Peter b. 13 March 1700 Westmoreland Co., VA

5. Willoughby b. 1702 Westmoreland Co., VA

6. Presley b. 10 Dec. 1704 Westmoreland Co., Va m. 26 March 1729 Susannah Whaley

Elizabeth Ramey m.: Thomas Cockerill b. 1699 Westmoreland Co. VA d. 1778LoudonCo.,VA Parents: John Cockerill Elizabeth Presley

1. Elizabeth
2. Anna Ramay
3. Jeremiah
4. Sanford
5. Thomas
6. Benjamin
7. John


Jane Presley
b. 29 June 1664 Northumberland Co., VA
Parents: Peter Presley Elizabeth Thompson
m. Richard Rogers

m. 2nd Christopher Neale

1. Richard Rogers
2. John Rogers
3. Hannah Rogers
4. Peter Neale
5. Ed ward Neale
6. Presley Neale
Page 9
Sarah Allerton m. Hancock Lee

Parents: Richard Lee
Parents: Isaac Allerton

1 . Isaac b. 1 707 bu. in England
2. John b. 1708 d. 11 Aug 1789
3. Hancock, Jr. b. 1709
4. Elizabeth b. 1709

m. Zachary Taylor
1. Zachary
2. Hancock
3. Richard
4. Elizabeth

*******************************

Sarah Strother
b. Stafford Co., VA
Parents: William Strother

m. Richard Taylor
Parents: Zachary Taylor Elizabeth Lee

1. Zachary

*******************************

William Presley
b.
d. 1685
m. before 1650 Wife's name unknown

Parents: William Presley Jane Newman

1. William
2. Peter b. 1657 d. 1750 Northumberland Co., VA m. 1700 Winifred Griffin
1. Winifred Presley m. Anthony Thornton 1. Presley Thorton b. 1722 d. Dec. 1769 m. Charlotte Belson 2. Winifred
Page 10
Charlotte Belson b. England
m. Presley Thornton b. 1722 d. Dec. 1769

Parents: Anthony Thornton Winifred Presley

1. Charles Wade
2. John Taylor m. Susanna Kenner

*******************************

Mary Presley
b. 1673 Northumberland Co., VA
m. Charnock Cox

Parents: Peter Presley Elizabeth Thompson

1. Presley
2. Charnock, Jr.
3. Vincent
4. John

*******************************

Ursula Presley
b. 1667 Morthumberland Co., VA
m. 1695 Northumberland Co., VA Daniel Neale
b. 1673 July 26 Northumberland Co., VA
d. Dec. 1713 Westmoreland Co., VA

Parents: Peter Presley Elizabeth Thompson

m.lst: Thorton Tansdale

1. Hannah
2. Presley b. 1698 Staffer Co., Va d. 1749 bu. Fairfax Co., VA m. 1733 Margaret Sanford b. 1714 Westmoreland co., VA d. 1753 bu. Westmoreland Co., VA
3. Christopher
4. Daniel
5. Rhondam
6. Frances

*******************************

Margaret Sanford
m.1733 Westmoreland Co., VA Presley Neale

Parents: Daniel Neale & Ursula Presley

1. Daniel b. 1735 Fairfac Co., VA d. 1804 bu. Scott Co., KY m. Jemima Kitchen
Page 11
2. Elizabeth b. 1737 Fairfax Co., VA d. 1765 m. 1753 John Spencer
3. Ann S. b. 1739 Fairfax Co., VA d. 1775 m. 1750 Henry Wishardt
4. Shapeigh b. 1741 Fairfax Co., VA d. 1777 m. Mary
5. Richard b. 1743 Fairfac Co., VA m. 8 June 1767 Frances Underwood
6. Jemima b. 1745 Fairfax Co., VA m. 1764 William Gunnell

*************

Elizabeth Neale m. 1753 John Spencer

Parents: Presley Neale Margaret Sanford

1. Ann
2. Ursula

*************

Ann Shapleigh Neale m. Henry Wishardt

1. Charlotte m. 25 May 1783 Aaron Simpson
2. Jean
3. Margaret

*************

Frances Underwood m. 8 June 1767 VA Richard Neale b. 1743 Fairfax Co., VA d. 1816 m.2nd: Mary Smith Nelson

Parents: Presley Neale Margaret Sanford

1. Richard b. 1768
2. Judith Ann b. 1770 m.1790 Newman Beckwith
3. George b. 10 Jan. 1772 Westmoreland Co., VA d. 24 July 1853 m. 15 Dec 1792 Sarah Lewis b. 29 april 1776 Loudoun Co., Va Sarah d. 25 April 1863 Both are buried in Loudoun Co., VA
Page 12
4. Thomas b. 1774 m. 13 Oct. 1794 Margaret Winn
5. James b. 1778
6. William Presley b. 1781 d. 1808 m. Nancy M. Smith
7. Richard Henry Lee b. 1784 ra 14 april 1803 Hannah Withers

*************

Sarah Lewis
b. 29 April 1863 Loudoun Co., Va
d. 25 April 1863 Loudoun co., VA
m. 15 Dec 1792
George Neale
b. 1772 Jan 10 Westmoreland Co, VA
d. 24 July 1 853 Loudoun Co., VA

Parents: Richard Neale Frances Underwood

1. Lucy b. 14 Dec 1795 m. 4 Oct. 1818 Alex H. Creel b. 19 Oct. 1788 Prince William Co., VA

1 . George La Fayette Creel b. 29 Nov. 1824 d. 1 3 Aug 1847
2. Henry Clay b. 17 Jan 1829 Parkersburg, W VA d. 14 April 1907 m. 11 april 1860 Eliza Brouse
3. Sarah Elizabeth b. 25 Nov. 1831 m. Sept. 1847 William L Jackson
4. Lucy Alexander b. 26 Oct. 1835 d. 1867 bu. La Fayette, IN m. April L. L. Laughlin

*************

Jemima Neale b. 1745 Fairfax Co., VA
m. 1764
William Gunnell b. 1730

1. Presley b. 1779 d. 1806 m. 1791 Ann Hunter b. 1772 d. 1806

Submitted by Mildred Hicks
Page 13

Families: A. Presley, F. Presley, D. Presley
Click photo for larger version

Page 14

Families: Levi Prisly
Click photo for larger version

Page 15

Families: Adolph Presley
Click photo for larger version

Page 16

Families: John Pressley, L.W. Presly and E.F. Presley
Click photo for larger version

Page 17

Families: R. A. Presley
Click photo for larger version

Page 18

Families: T. A. Presley and S. J. Presley
Click photo for larger version

Page 19

Families: Joseph R. Presley
Click photo for larger version

Page 20

Families: T. Amos Presley
Click photo for larger version

Page 21

Families: Wm. Presley
Click photo for larger version

Page 22

Families: Isel Presley
Click photo for larger version

Page 23

Families: Parker Presley
Click photo for larger version

Page 24

Families: Haver Pressley
Click photo for larger version

Page 25

Families: Thos. Presley
Click photo for larger version

Page 26

Families: G. W. Presler
Click photo for larger version

Page 27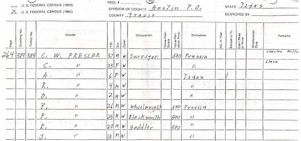 Families: C.W. Presler
Click photo for larger version

Page 28

Families: Eliza Presley, Wm. Presley, James Pressler
Click photo for larger version

Page 29
Letter to the Members:

This is not a letter I wish to write. However, at this time, it is with regret, that the Presley Research Association will be disbanding after one more issue. The officers that remain, Ed Singleton and myself, can no longer carry the organization alone. We do not have a President or Vice President and it is necessary, according to our bylaws, that we have these officers and there is communication among them.

I cannot say we won't reorganize at some point in time because we may have that opportunity to do so when there is an interest by members to be officers of this organization. It has been a pleasure for me to have been a part of The Presley/Preslar/Pressley Family Research Association. I will miss it tremendously, as will all of you I am sure.

I do plan to keep everyone's addresses and hope, if you should move, you will continue to keep me posted as to your new address. I do not want to lose track of you. There is still a lot of information floating around on the Presley Family that needs to be connected.

If any of you have an E-mail address, Ed Dunn would like to have the addresses, as I would, in order to keep in touch faster and easier.

You have my address. Please don't lose touch. I still have plans that include the census records. A list of members will be included in the final newsletter. I do hope you will all con tinue to keep in touch with each other and find more information just in case we do reorganize at some future time. Sincerely and with a great deal of love and respect for all of you,

Carol Hicks, Secretary/ Editor
E. L. Singleton, Treasurer