In Calgary, Billy lived in a house at 1723 9th St SW and it was here that he died. I have found several references to his house at the Calgary Heritage site. Here are those along with some additional info:

Update: On July 7, 2008 Ginny writes: " Today I heard that they have decided to sell the house instead of tearing it down for condo like structures." Fingers crossed Billy's house will continue to stand.

Update: May 19, 2010 Metro News writes this article.





The house as it was in the 1920's
when owned by Frank Jackson

The house in 2007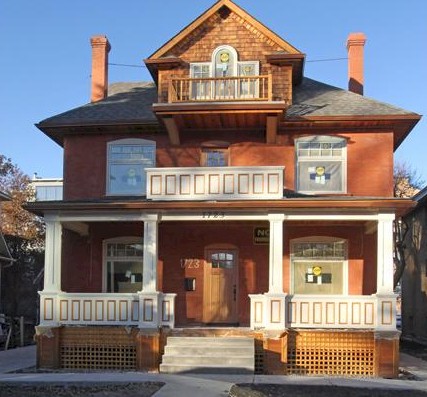 November 17, 2009
Click here to read current news.
From Calgary Heritage:

1723 9th St SW is boarded up and in 2006 a permit was applied for to redevelop to 6 unit stacked townhousing. The present fate is unknown. The house formerly owned by Frank Jackson, possibly of Jackson Construction, and later owned by Billy Cowsill of the Cowsill's music group which was the real life inspiration for the Partridge Family television series.

Its windows and doors are now boarded up. Graffiti defaces its front porch. The front yard fence has gone. Weeds are taking over in the litter-infested front yard. It has been a year since its remaining occupants were forced to move out. And yet the house still reflects a certain elegance of early 20th century Calgary, one of a rapidly shrinking number of vintage homes in a city where developers' wrecking balls continue to wipe out much of the city's heritage.

But the house at 1723-9th Street SW is more than another old house. "This house holds a lot of musical history within its walls," the young man moving out of the house told us in late 2006. "It was the home of Billy Cowsill, you know."

Billy Cowsill was the lead singer and guitarist for the family musical group, The Cowsills, from Rhode Island that achieved international fame in the late '60s with such hits as The Rain, The Park & Other Things, Indian Lake, and the title song from the rock musical, Hair. The Cowsills appeared on the Ed Sullivan and Johnny Carson shows, and provided the inspiration for television's The Partridge Family. The group eventually broke leaving some members estranged from each other for several years.

Billy emigrated to Vancouver in the 1980s where he fronted The Blue Shadows, known for their Everly Brothers-like harmonies. But Billy also continued to indulge his vices in those years, going so far as to describe the Shadows as "three vegetarians and a junkie."

In the mid-90s, he was rescued by members of Calgary's music scene, including Neil McGonigill and Jann Arden. Newly sober, Billy formed The Co-Dependents in the late '90s, a country-rock quartet that was much-loved on Calgary's thriving roots-music scene.

Cowsill died on February 18, 2006 at his Calgary home, at the age of 58. The news of Billy Cowsill's death must have struck his family particularly hard, as they were gathered in Rhode Island holding a memorial service for his younger brother, also a member of The Cowsills who had been found face down in the mud under a New Orleans wharf four months after he had disappeared following hurricane Katrina.

When news of Billy's death filtered through the Calgary music scene, his rich legacy was fondly recalled. "My wife and I, some of our happiest times came listening to Billy," Gerry Garvey, former manager of the now King Eddy blues bar told Heath McCoy of The Calgary Herald. "You'd see him and he looked like this grizzled old Keith Richards-guy. But he'd open his mouth and he sounded like an angel."

McCoy's interview with McGonigill, weeks before Billy's death, confirmed the forgotten legend's enduring popularity on the Calgary scene. "I started bringing him here in the mid-70s and people just loved him," McGonigill said. "College kids, punk rockers, grannies, they all loved him, even when he swore like a trooper."

D'Arcy McGee - Director of Calgary Heritage Intiative