Round The Bend - Connie - Round The Bend - BC



This one is a very tough one for me. I met Connie through the Cowsills in the late 1990's and therefore have many memories of times with her enjoying our favorite music group.


First time I met Connie. The Kerry in New Orleans - August 1999
Connie was a big Barry fan. I think she would say one of her favorite Barry memories was blowing bubbles along the Mississippi on New Years Eve 2000.


Connie and Barry blowing bubbles
Connie and Barry enjoying the Mississippi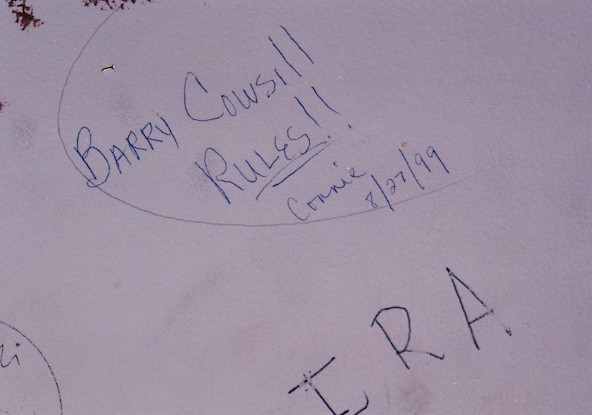 The bathroom wall at The Kerry
Connie - along with another fan - started the drive that lead to all seven Cowsill siblings being onstage together for the first - and only time - at Taste Of Rhode Island in 2000. We all are grateful for that. At ToRI 2000 Connie was part of the original Suite Chicks who shared their room for get-togethers the whole weekend.


ToRI 2000
Sing-A-Long in
The Suite - ToRI 2000
Many of us Cowsill fans - and Cowsills - were blessed to know Connie. I've heard from some going back to the Pen Pal days. Russ Broussard posted: "Heartbroken over hearing that our friend Connie Cupo Carty has crossed over. I know it's a selfish response, but still . . . I'm just f***ing sad. Well, Connie, give a great big "Who Dat!" holler for me, and a long extra hug to Barry Cowsill for me please." Lou Ann Cowsill added: "My condolences to Connie's family and her extended Cowsill family. Hugs and prayers for you all." Susan Cowsill posted simply "No words . . . " Over 250 condolences were left on Facebook that first day. She was adored by Cowsill nation.


l to r: Connie, Kim, Jenn, Eileen and Mariann
Connie and Jeana
Connie and Tracy
Bob, Connie, Susan and Paul
Darlene, Jeana and Connie
Connie and Susan
Connie's family with James and Janet
Connie and AJ
Connie loved many things - most of all she loved God with her whole heart. Connie was part of the worship team at her church. Connie loved her family - Harry, Jill and Anthony. She was also very passionate about her pets. Porkchop was one of her dogs. And I can't leave out that Connie was a big Philly's fan. I believe she had seasons tickets and when they weren't allowed to go because of the Covid virus, Connie could be seen on TV as one of the cut-outs in the seats. She also was a huge supporter of the New Orleans Saints.


Family



Connie's Cut-out





Connie's obituary reads as follows:
Connie Carty
August 28, 1955 - July 14, 2021

Connie Carty, 65, of Lansdale, passed away peacefully on July 13, 2021 at Abington Lansdale Hospital after a courageous battle with cancer with Harry her beloved husband of 41 years at her side.

Born August 28 1955, to Irene M. (Kelly) and Anthony F. Cupo, Connie treasured being a daddy's girl and had a special father/daughter relationship. Connie grew up in the East Falls section of Philadelphia and later in Conshohocken. In 1973 she graduated from the historic John W. Hallahan Catholic Girls High School in Philadelphia and was recently active in efforts to save the school from closure.

Connie met future husband Harry in 1976. They married October 20,1979 at the Collegeville Inn, Collegeville, Pa. In 1994 they renewed their wedding vows at Gwynedd Square Presbyterian Church and have lived in Lansdale since 1986.

Connie and Harry joined the church in 1994. Connie loved her church family. She taught Sunday school, is an ordained Elder, sang in the choir, and served as a worship leader. But her true calling and joy was singing in the church's Sonrise Praise Band for the last 18 years, playing her tambourine, and inspiring others with her strong faith.

Earlier in her life she worked in the insurance industry. The latter in the pharmaceutical industry. For the last 15 years, Connie worked as a Global Informed Consent Specialist at Icon Clinical Research. She was very proud of her recent work on the Pfizer COVID-19 vaccine and was thrilled to be a recipient of both doses after FDA approval.

An ardent and vocal sports fan, Connie rooted for the Philadelphia 76ers and the New Orleans Saints (particularly Drew Brees) and was very supportive of Steve Gleason and his ALS Foundation and was a long-time season ticket holder for the Philadelphia Phillies. She also passionately followed the musical group The Cowsills since high school and considered them and their fans her family. Connie was also a dog lover. She supported senior pet adoption through City of Elderly Love and loved her pet family Smokey, Charlie, Porkchop, and Anchovy.

In addition to her husband and son Anthony, Connie is survived by daughter Jillian (Jill), grandchildren AJ, Gianna, and brother-in-law William (Carty) and Sally, niece Elizabeth, and nephew Michael Carty, and sister-in-law Marilyn (Carty) and James Bittenbender and nephew William and niece Jamie Bittenbender, and cousin-in-law Patricia Whitaker.

A memorial service will be held at 11:00 AM, Saturday, July 31st at Gwynedd Square Presbyterian Church, 837 Sumneytown Pike, Lansdale, PA 19446. The family will receive guests at from 10:00-11:00 AM prior the service. A luncheon will follow the memorial service in Weber Hall at the church. Interment will be private in the Memorial Garden at the church.

In lieu of flowers, memorial contributions can be made to Gwynedd Square Presbyterian Church, 837 Sumneytown Pike, Lansdale, PA 19446

Arrangements by Huff & Lakjer Funeral Home, Lansdale.

www.huffandlakjer.com