Flip's Groovy Guide To The Guys
by Editors of Flip Magazine
Signet Books May 1969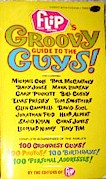 BARRY COWSILL

Birthdate — September 14
Mailing Address-888 EighthAve., New York, N.Y. 10019
Honest, open and a lot of fun is Barry Cowsill of the groovy Cowsills.

He was the group's drummer at first until his younger brother John conquered the drums and took over. Now Barry plays guitar, and like everyone in the family, sings his heart out.

If there's such a thing as a natural entertainer, then Barry is one. He greets everyone with "Hi! How are you?" and his enthusiasm is contagious. You just can't help but be cheered up when Barry's around.

A friend once said, "When he laughs, his freckles laugh too." Barry inherited his share of the family freckles.

Bright red is his favorite color, reflecting his bright outlook on life. And asked what his favorite kind of surprise is, he'll quickly chirp, "A big one."

"People who love life" are his favorite kind of people, probably because he himself loves life so much. Like most of The Cowsills, he's basically uncomplicated with few hang-ups. He just lives, laughs and loves.

He's always wanted to visit Rome and Paris and recently got the first part of his wish when the family did a highly successful tour of Italy.

Before moving to California, Barry attended St. Augustine's School in Newport, Rhode Island, and was an honor student.

He's got a beautiful smile that melts everyone from teachers to his own brothers. He's the only one of the family who gets away with much of anything, which is hard to do in a family of practical jokers, but all he does is smile and everything seems to go his way.

He's very honest and open and terribly easy to be around and to get to know really well.
BILL COWSILL

Birthdate — January 9
Mailing Address -888 EighthAve., New York, N.Y. 10019
Bill Cowsill is the oldest of the Cowsill kids and he accepts that responsibility with no protests. He's used to having his younger brothers and sisters look up to him for advice.

His life is disciplined and he takes his work very seriously. He claims he has no hobbies nor any time for any if he wanted them.

Though he's got a keen wit and can easily talk anyone in or out of anything in minutes, his grades at Rhode Island College were often just passing.

That is, except in his favorite course —English. He writes all the time — poems, verse, a little bit of everything including lyrics for the family's records.

Bill's the most mysterious of the family, keeping a lot of himself deep inside, as opposed to most of this extroverted, outgoing family.
He and Bob are similar in many ways, including looks. Like Bob, Bill is six feet two, but Bill weighs about four pounds less and has light brown hair and mysterious green eyes.

And while Bob has given up hope of teaching, Bill still hopes to be able to continue in music and teach English as well — but he's always been able to carry a bigger load than most people.

Good steak is his favorite food and blue and black his favorite colors. When he does find time to date, he prefers girls who are intelligent and knowledgeable.

Serious and studious. Bill can always be counted on to bring things back down to earth when this wild family gets too far out of hand, and at the same time he can always be counted on as a good listener when anyone has a problem.

He's like part of a solid foundation for a very groovy organization — the wild Cowsills.
BOB COWSILL

Birthdate — August 26
Mailing Address-888 Eighth Ave., New York, N.Y. 10019
One of the wildest of the groovy Cowsills is Bob Cowsill, born in 1949 in Portsmouth, Virginia.

Unlike his quieter brother Bill, Bob's a zany practical joker and just about anything's likely to happen when he's around.

Despite his reputation for always being around when all the crazy things go on in the Cowsill household, Bob often disappears, sometimes for hours at a time. But there's no need to worry about him, he's probably off reading somewhere. It's his great love of reading that's enabled him to keep all A's and B's in school.

Before getting thoroughly caught up in music, Bob wanted to be a math teacher, and probably could have done it, but now music is his world.
In his spare time he likes to go water skiing and just fooling around.

He's tall, six feet two, and handsome, with black hair and brown eyes, and of course he's popular with the girls. All he looks for in a girl is that she have a good sense of humor and be easy to be with. And she'd better not be too much of a gourmet, since Bob's favorite foods are pizza and hamburgers.

Blue and green are his favorite colors, reflecting his love of nature.

Bob's really thrilled now that the family's moved from their big old house in Rhode Island to an even bigger one in Santa Monica, California, because the house is so near the beach and Bob's always wanted to live by the water.

If he could live anywhere in the world though, he'd just love to live in a castle in Spain, but meanwhile he's settling into California ways and working hard at making The Cowsills' lyrics even more meaningful.

He agrees with his father, who said, "Please forget the image you have of The Cowsills as a nice homespun American family - listen to the music, the lyrics."
JOHN COWSILL

Birthdate — March 2
Mailing Address-888 EighthAve., New York, N.Y. 10019
Little drummer boy with The Cowsills is John Cowsill, small, uncomplicated and very happy. He's enjoying his childhood to the highest degree.

His energy abounds and he's always off on a new adventure. So far he hasn't yet settled on a first ambition, but when he does he'll probably go right out and achieve it. If he could be anything in the world it would probably be a motorcycle racer, for John loves things that move and move fast.

The one thing he's sure he wants to do someday is fly, and you can bet that he will.

He says he's too young to date and won't disclose what kind of girls he likes, but every girl from one to a hundred loves John's freckles. He has millions of them and they're his trademark. It almost seems that if the freckles were to suddenly disappear John would turn into another person.

Despite the fact that The Cowsills are an extraordinary family, having traveled all over and produced several hit records, John says that being a member of the group means to him "to be a regular guy."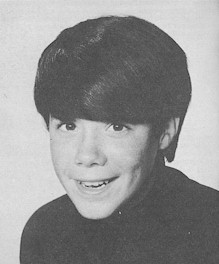 Born in 1956 in Newport, Rhode Island, little John is five feet three, and 102 pounds but growing every day. His freckles are surrounded by brown hair and brown eyes that always seem to be looking for fun.

Purple's his favorite color and if you want to lure him into a kitchen all you have to do is put some fried chicken on. He could live on fried chicken.

He describes his brothers as "big!" and says he'd like to travel everywhere and meet all the kind people of the world.

His drums are a very big part of his life and he practices every chance he gets — Ringo Starr look out!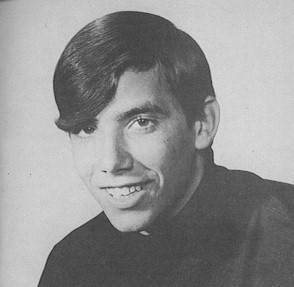 PAUL COWSILL

Birthdate — November 11
Mailing Address-888 EighthAve., New York, N.Y. 10019
When the Cowsill family first went into show business en masse, two of the younger brothers decided not to enter the performing end of things. Instead Dick and Paul Cowsill took charge of the large amounts of equipment needed to keep the group going.

But when the family was in Italy and brother Bill had to return to classes at Rhode Island College, Paul very willingly stepped into the spotlight. He'd been practicing for a while anyway and no problems resulted. Since then he's become another popular member of the singing group.

And when Bill returned from classes, Paul stayed and just increased the size of the group.

He plays trumpet and does the "soul" singing on most of the rhythm and blues numbers they do.

Paul's just about to catch up with Bob and Bill in height. He's six feet one now and weighs 150 pounds. His dark brown hair and eyes give him a typically American handsomeness.

He's a practical joker — which seems to run in the family — with quite a sunny disposition. Purple's his favorite color and Chinese his favorite kind of food, particularly chicken chow mein.

He's a nut about all sports but particularly goes for football and basketball.

He attended the Professional Children's School in New York before the family moved to California. Spanish, English and gym were his favorite subjects there.

Teaching ambitions seem to run in the Cowsills, and Paul would like to be a gym teacher. If they hadn't gone into music the Cowsills might have become a famous family of teachers.

Paul's a casual guy and likes to dress that way. Dressing up's a drag to him and he avoids it whenever possible.

The Beatles and Bee Gees are the favorite recording groups of this groovy guy.