Barbara C. (Russell) Cowsill was born July 12, 1928 in Cranston, Rhode Island, and died of emphysema in Tempe, Arizona on January 31, 1985. Barbara was the daughter of Frederick Russell and Helen McDermott Russell Brooks. Click here to read Barbara's obituary. Click here to see Barbara's 1940 census record.

William "Bud" Joseph Cowsill, Sr. was born December 2, 1925 in Providence, Rhode Island and died of leukemia on September 29, 1992 in a plane on route to treatment. Bud was the son of James A. Cowsill and Alice Veronica Nicholas. Bud's step-mother was Doris. Click here to read Bud's obituary. Click here to see Bud's 1940 census record.

Bud and Barbara were married in July 3, 1947 in Our Lady Of Victory Chapel, Naval Operating Base, Norfolk, Virginia.

A. William "Billy" Joseph Cowsill, Jr was born January 9, 1948 in Providence, Rhode Island. Billy passed to the other side around noon at home on Saturday, February 18, 2006. Billy had been ill for a number of years with emphysema, osteoporosis, and Cushing syndrome. Click here to read Bill's obituary.
Bill and Karen
Billy became engaged in May 1968 and married Karen Locke on Sunday, June 9, 1968 at Broadway United Church of Christ in New York City. Their reception was held in the Palm Court at the Waldorf Astoria Hotel.Click here to read more about the wedding. They were divorced in April of 1974. Karen was born March 10, 1948 and died May 2?, 2022 in Los Angeles.
Bill and Karen have one son.
1. Travis Taylor Cowsill born in January 30, 1971, at St. John's Hospital in Tulsa, Oklahoma.
Bill had a second son by a second relationship with Melissa Leah "Mitzi" Gibbs (Mitzi was born November 7, 1942 and died in November 25, 2006).
2. Delaney Cowsill who was born February 6, 1980 in Vancouver, Canada. Del and Katie Fournier were married on October 7, 2013 in Toronto, Canada and had:
a. Oliver William Cowsill was born October 4, 2010.
b. Harrison Alva Cowsill was born September 30, 2014.


B. Richard "Rich" "Dick" James Cowsill was born August 26, 1949 in Portsmouth, Virginia. Richard passed away from lung cancer on July 8, 2014. Rich married to Pam Mueller and had two children. Rich and Pam divorced on August 2, 1983 in Nevada.
1. Nathaniel R. Cowsill was born January 23, 1972 Nathan married Sarah Serbeniuk.
a. Matthew Cowsill, born December 3, 2004.
b. Jordan Cowsill, born December 3, 2004.
c. Ashleigh Lynn Cowsill, born October 17, 2006.
d. Avigail Lynrea Cowsill, born February 1, 2013.
2. Barbara L. Cowsill was born January 11, 1974.
a. Gage Cowsill Neuwohner , born July 12, 1992. Gage married Katie Arnst on September 18, 2021 in Granada Hills, California.
Barbie married David Hoiseck in November 2020.
Richard married a second time to Susan Montella and they have one son.
3. Bryan Cowsill, born February 19, 1986.


C. Robert "Bob" Paul Cowsill was born August 26, 1949 in Portsmouth, Virginia.

Bob and Nanci
Bob married Nanci Roberts on June 6, 1970 in the Glendale Presbyterian Church, Glendale, California. Their reception was held at Nanci's parents home in Glendale and honeymooned in the Bahamas.
Bob and Nanci were divorced in August 1976 after having two children.
1. Jason Lloyd Cowsill, born May 28th, 1972 in Los Angeles. Jason is married to Catherine. They were divorced.
a.Elijah Lucas Cowsill, born July 6, 1998.
b.Ronan Cowsill, born March 5, 2002.
Second, Jason married Jackie Jae Jacobson on February 21, 2010 in Las Vegas Nevada.
2. Tiffany Jane Cowsill, born September 5, 1974 in Los Angeles. Tiffany was married in June 1997 to Tim Scheu.
a. Braden Scheu, born January 12, 2005.
b. Janie Scheu, born January 12, 2005.

Bob and Mary Jo
Bob married a second time to Mary Jo Ferr on January 7, 1978 and they have one son and two daughters.
3. Ryan Michael Cowsill, born on May 27, 1981 in Los Angeles. On November 15, 2020 in Austin, Texas, Ryan married Allison Lemley (whom he met on one of the Cowsills oldies cruise).
a.Ben Cowsill, born March, 2021.
a.Jack Cowsill.
4. Courtney Marie Cowsill was born January 4, 1984 in Los Angeles. On October 22, 2011, Courtney married Dean Capparelle.
a.Logan Capparelle, born December, 2013.
a.Claire Capparelle, born March 18, 2016.
5. Marissa Kathleen Cowsill, born September 26, 1986 in Los Angeles. On October 22, 2016 Marissa married Greg Kohlhagen in Chicago, Illinois.


D. Paul Mitchell Cowsill was born November 11, 1951 in Portsmouth, Virginia.

Paul & Merry
Paul was married to Meredith "Merry" Hull in August 14, 1971 in Los Angeles. Click here for the LA Times article. They were divorced January 11, 1984. Paul and Merry had two sons.
1. Shane Paul Cowsill - Shane was born on January 29, 1972 and is married to Alisa.
a. Tyler Craig Cowsill, born on Thursday September 28, 2000.
b. Tessa Louise Cowsill, born on Saturday April 19, 2008.
2. Brendon Mitchell Cowsill, born January 7, 1975 in Los Angeles. Brendon married Tanya Bernice Rastron on January 25, 2004 in Nevada. Secondly, Brendon married Denise Bosley (2021 or 2022). Check out Brendon's baseball questionaires.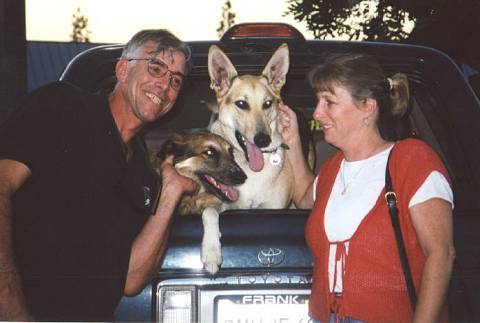 Paul & LuAnn


Secondly, Paul married LuAnn Andrews on October 13, 1984 (and they have two dogs, Red and Lucy hee hee).

E. Barry Steven Cowsill was born September 14, 1954 at the Newport Naval Hospital in Newport, Rhode Island. Barry passed away in 2005, a victim of Hurricane Katrina in New Orleans, Louisiana. Click here to read Barry's obituary.
Barry has one child by a first relationship.
1. Carrie Lynn Rebecca Cowsill - Carrie was born on April 30, 1978 and is married to Brandon Hartsaw.
a. Brayden Cole Hartsaw, born December 20, 2001.
b. Riley Cade Hartsaw, born November 22, 2003.






Barry and Debbie


Barry married Debbie Flannery Scott in the lawn of Halidon Hall on the June 21, 1987. They have 2 children.
2. Keira Crystal Cowsill, born August 14, 1988 in Monterey, California. Keira married Mathew Little on June 19, 2009 at Mora Chapel in Mission San Carlos Borromeo de Carmelo, in Carmel, California.
a. Liam Patrick Little, born September 5, 2012.
a. Owen Andrew Little, born May 8, 2014.

3. Collin Tyler Cowsill, born May 17, 1990 in Monterey, California.

Barry also considered Debbie's daughter Brandy as his daughter and her children Briana Lynn and Leah Morgan as his grandchildren.

F. John Patrick Cowsill was born March 2, 1956, in Newport, Rhode Island.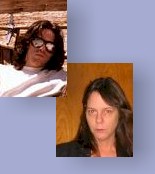 Jan


John was married to Jan Allison Rose on May 27, 1978. They were divorced on July 28, 1983 and had no children.

John and Val
Secondly John married Valerie Ann Poulos on January 19, 1985 and they have a daughter and a son.They were divorced in about 2001.
1. Tenaya Danielle Cowsill, born November 24, 1990, in Ojai, California. On September 22, 2019 in New York, Tenaya married Leonard Moscatelli.
2. William "Will" James Cowsill, born February 29, 1996, in Ojai, California.
Third, John became engaged to Vicki Peterson on January 11, 2003 and they were married on October 25, 2003 in Hancock Park, California.




John & Vicki Engaged
picture from thebangles.com




John & Vicki
photos by Gunnar Weygold
G. Susan Claire Cowsill was born May 20, 1959 in Canton, Ohio.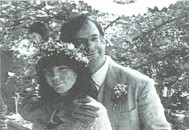 Susan & Peter


Susan was married to Peter Holsapple. Their wedding took place in Vicki Peterson's garden in Calabasas, California, on Sunday April 18, 1993, and they honeymooned in Spain. They have one daughter and were divorced in 2001.
1. Miranda Victoria Cowsill Holsapple, born September 18, 1993, in New Orleans, Lousiana. Miranda married Nicholas Jenkins on January 22, 2021 in Louisiana.
a. Savannah Jade Jenkins, born October 24, 2022.





Susan & Russ


Secondly, Susan married Russ Broussard on July 12, 2003, in Lafayette, Louisiana.
1. Nicolas Joseph Broussard is Susan's step-son.
2. Dionne Twilley Broussard Susan and Russ adopted Dionne on November 24, 2020.


References:
Cowsill posts
Cowsill Fan Club Newletters
16 Magazine
16 SPEC Magazine
Ancestry.com
weddingchannel.com
Providence Journal
theknot.com