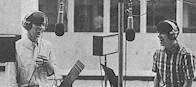 In the family way, THE COWSILLS are getting better and more popular every day! They sing so beautifully together, and they're so versatile. When Mom Mini-BARBARA sings, the group captivates you with their fantastic harmony. And when the four boys sing alone, they really shake you up with their blues and hard rock. BILL COWSILL seems to be standing out as the groups' soloist. All in all, that clan's got a monopoly on talent!
THE COWSILLS
Dear Diary .... (Bob) "To be able to date every girl in the world, at least once, would be groovy!" ... (John) "It's great to eat frankfurters at a baseball game!" ... (Bill) "It's be super to have my very own car!" ... (Barry) "To go to school and get good marks without homework would be a real happening!"


Bill Cowsill - Born Jan. 9, 1948 in Providence, R.I., 6'1", 150 lbs., Single
Bob Cowsill - Born Aug. 26, 1949 in Portsmith, Va., 5'11", 155 lbs., Single
Barry Cowsill - Born Spet. 14, 1954 in Newport, R.I., 5'1", 100 lbs., Single
John Cowsill - Born Mar. 2, 1956 in Newport, R.I., 5'2", 100 lbs., Single
Write to: Leonard Stogel Assoc., Ltd., 888 8th Avenue, New York, N.Y.