Newest Posters:
December 12, 1969
Wahoo, Nebraska




All Together Now benefit
April 25, 2020
Los Angeles, California






Posters:




The Cowsills
1968
Intetrnational Poster Corp
U S A




Hair
Peter Max
Date Unknown




The Cowsills
Note: I just bought this and it's only the 2nd one I've ever seen. Lynne M. has the other. Not sure if this was part of the milk promotion or fan club issue or what.
Date Unknown




60's Rock and Roll Tree
Date Unknown

Poster Muenchinger-King Hotel
Also in newspaper March 25, 1966

Soundblast '66
Remember this was BEFORE TRTP&OT
June 10, 1966
Soundblast '66
June 10, 1966

Soundblast '66
June 10, 1966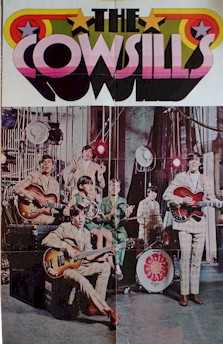 American Dairy
1968
Disneyland
Easter Weekend
April 8-12, 1968
Harvey Comic Poster
1968
Poster
Teen Screen Magazine
1968
Cowsills
Artist Gary Patterson
Black Light Poster
Advertized in Teen Screen Magazine 1968

Indian Lake promo
From MGM Records in the UK 1968
Click Here for more on this poster.
Nov 1968
Cowsills singing
Le Opere Di Bartolomeo
San Remo, Italy
Spring 1968


Poposters
New York Daily News
June 2, 1968
Blank Promo Poster
1968
Stony Brook Music Festival
July 27, 1968
New Jersey State Fair
September 21, 1968

A Family Thing
November 1968
Country Pop Festival
Dillards Sunshine Company Soledad Canyon Concert Poster
Los Angeles, California
May 3-4, 1969

Kleo
Wichita, Kansas
June 13, 1969


KAKC show
Tulsa June 11, 1969

Fun Fair
Kansas City, MO
Iron Butterfly - Strawberry Alarmclock
Wilson Pickett - The Cowsills
June 1969
KUDL Poster
June 1969
Artist Timothy Dixon
Fun Fair
June 1969
Concert Poster
Steel Pier
July 17-23, 1969

WVOK in Birmingham, Alabama
July 26, 1969

24 Original Hits poster including The C's
Abt 1970
Wallace Civic Center
Fitchburg, Massachusetts
April 26, 1970

Billy with group Medicine
Tulsa, Oklahoma
September and October 1970
Wanted Paul !
May 1970
Wanted Barry !
May 1970
Wanted John!
May 1970
Wanted Bob!
May 1970
KRMG
The Cowsills were scheduled to appear, but replaced by Pete Fountain (Cowsills name seen under white Pete Foundtain sticker)
Tulsa, Oklahoma
May 8, 1970

Summerfest '70
Milwaukee, Wisconsin
July 17-26, 1970

Cheyenne Wyoming Frontier Days
July 24-25, 1970

Waterstock
Place ????
September 19, 1970


From Steel Pier
July 5-10, 1971
(l to right) Cookie Hillanbrand, Connie Cupo Carty, Joanne Herron Taufa, Irene Nelson and Susan Heil Silverman Thanks Connie!
Featuring Bridey Murphy
April 5, 1973
Blue Northern
Penticton Peach Festival
September 02, 1978

Poster by Frank B.
1980
From John's Jan & Dean Tour
China 1986

Soft Rock Cafe
Billy Cowsill
Vancouver 1987
Billy at The Spys
Arlington Cabaret, Vancouver, B.C., Canada
November 29, 1989




Zanzibar
July 3, 1990




Marriott Show poster
September 26, 1990


Blue Shadows Poster
March 1993




Genghis Cohn Benefit
April 19, 1993

Calgary Folk Festival
July 24-30, 1995
Billy played with
The Blue Shadows
Continental Drifters
November 13, 1995
Continental Drifters
April 18, 1997
Continental Drifters
January 11, 1997

Hootie poster with Continental Drifters opening
January 24, 1997
Begger's Musical
March 1998

Calgary Folk Festival
July 1998
Billy played here
Global
August 1998
Continental Drifters
Netherlands 1999

Rock Scapes
Includes The Cowsills


Click here for a closer look.
You can purchase a copy at theposterposse.com
About 2000

Calgary Folk Festival
July 2000
Billy played with
Ronnie Hawyard Trio
Better Day
Continental Drifters
June 5, 2001
Live Recording Event Poster
June 27, 29 & 30, 2001
Calgary Folk Festival
July 25-28, 2002
Billy played here
Farm Tracks
Canada
September 25, 2002

Susan Cowsill
Echo Lounge
Atlanta,GA
July 28,2004
Susan Cowsill
Pop Culture Showcase
SWSW 2005
Austin, TX
March 19, 2005
Susan
Gravity Lounge - Charletteville, VA
March 24, 2005
Susan Concert Poster
September 23, 2005

Lucinda Williams poster
with Susan as guest artist
September 26, 2005
Cowsill Documentary
2005
Susan's Covered In Vinyl
Abt 2006
Cover Art poster
including Best Of The Cowsills
Vinyl Record Day
August 12 each year
2006

Poster for group Braineater
which Del Cowsills plays with
April 28, 2006

Leon Russell
Susan on this bill
August 2006
Susan poster
Lucy's Retired Surfers Bar
November 03, 2006
Original Idols poster
First Show
December 31, 2006



Covered In Vinyl poster
Mama's & Papas
May 5, 2007




Poster for group Top Drawers
which includes Del Cowsill
June 29, 2007




N.O. Musician Clinic Benefit
February 5, 2007




BB Kings, July 6, 2007
Beach Boys Branson
July 2007
Original Idols at Silverton
September 2007

Famous Tulsans
Including The Cowsills
because of Billy and Susan
Abt 2008

Tribute poster by Snake
2008
New Orleans for Obama
show a Susan bumper sticker
2008
NOMRF poster
Susan autograph
January 2008
Nanci did this poster for
her house concert for Susan
January 20, 2008
Pop Culture Press Poster
SxSW March 2008
Musicians For Minneapolis
April 2008
John with the BB's
July 26, 2008
Cannerystock
August 23, 2008

BB's in Sweden, July 3-4, 2009
Sunday Roadhouse - Susan
Omaha, Nebraska
July 14, 2009


Cowsills Branson
MO July 28-Aug 8, 2009
Cowsills in Branson, MO
July 28-Aug 8, 2009
John with the BB's
Europe 2009
John with the BB's
Mountain Winery
August 2, 2009
Bob Cowsill Band
Fallbrook, California
August 29, 2009

John with the BB's
Fairfield, Iowa
Sept 7, 2009
Mirliton Festival
includes Happy Talk Band
November 7, 2009
John and Vicki invite:
The Love Handyls
December 16, 2009
Quad Cities Waterfront Convention Center
Bettendorf, Iowa
April 2, 2010
Threadhead Thursday
including Susan and Russ
April 22, 2010
Beach Boys
May 31, 2010
Turner Field
Atlanta, Georgia
Lighthouse
April 2010
Threadhead Party
Including Susan Cowsill Band
April 27, 2010
BB's at Pier Six Pavilion
including John
June 24, 2010
Susan's St. Louis gig
July 1, 2010
Beach Boys
Butte, Montana
August 27, 2010
Cowsills at Silver Reef Casino
September 19, 2010
Beach Boys
October 23, 2010
Australia
Ludwig Drummers from NAMM
including John 2010
2010
Algiers Point Non-Stop Live Music
Including Susan Cowsill Band
2010
Performers at the
Minnesota State Fair
2011
Beach Boys
The Fleetwood Country Cruize-In
Ontario, Canada
June 3, 2011


Indian Lake
July 9, 2011
I Wanna Be A Rock Star
Manitowoc, Wisconsin
July 30, 2011
This contest was cancelled.
Bob was to be a judge
Bob Cowsill Band
Frankie's in Valencia, CA
November 3, 2011
Family Band
Santa Barbara Film Festival
Santa Barbara, California
Feb 3, 2012

Family Band to be shown at
The Santa Barbara Film Festival
Santa Barbara, California
February 4, 2012

Bob Cowsill Band at
Fox and Hound Pub
2012
Benefit for Hurricane Sandy
New Orleans Louisiana
April 23, 2012

BB's (with John)
New Orleans Louisiana
April 23, 2012

Floyd Fest
Susan sang with Jackson Browne
Floyd, Virginia
July 26, 2012

We Love Mike Benefit
House of Blues N.O.
August 30, 2012

Fall Into The Rhythm
Glouchester, Massachusetts
September 13, 2012

BB Kings
New York City
September 17, 2012

Songwriters Workshop
New Orleans
December 1, 2012

Verdi Gras
Susan Cowsill Band
New Orleans
January 12, 2013

Family Band Documentary Poster
Date - Various Showings

Benefit for Autism
North Hollywood, California
February 16, 2013

Beach Boys
Mixing Room
Shanghai, China
March 24, 2013
Beach Boys
England
July 7, 2013
Beach Boys
Paris, France
July 8, 2013

Beach Boys
with Herman's Hermits
Big Flats, New York
July 26, 2013
Beach Boys
Seminole Hard Rock
Tampa, Florida
July 18, 2013
Beach Boys
Moon Palace Resort
Cancun, Mexico
August 6, 2013
Cowsills
Kowloon - Saugus, Massachusetts
August 8, 2013
Beach Boys
Port Theatre
Nanaimo, British Columbia, Canada
August 22, 2013
Cowsills
Slater Park
Pawtucket, Rhode Island
September 22, 2013
Where The Action Is Cruise
Banner
January 18, 2014
Where The Action Is Cruise
Leaving from Houston
January 18, 2014
Where The Action Is
Princess Cruise
January 18, 2014

Susan and Bob
Autism Benefit
Los Angeles, CA
March 1, 2014
Bob at The Candy Store
Newport, Rhode Island
May 3, 2014
Covered In Vinyl
Traveling Wilburys
New Orleans, Louisiana
May 4, 2014
60's Rock n' Roll Spectacular
Lynn, Massachusetts
May 17, 2014
60's Rock n' Roll Spectacular
Lynn, Massachusetts
May 17, 2014
NIM Fest
Susan along with Marilyn Manfra
Newport, Rhode Island
July 13, 2014
John and Beach Boys
Hampton Court, England
June 25, 2014
NIM Fest
Susan along with Marilyn Manfra
Newport, Rhode Island
July 13, 2014
Susan Cowsill
Sunday Cookout Concert Series
June 29, 2014
Beach Boys
Ebrington Square
England
June 26, 2014
Saints For Sinners
Hall of Fame-Ous!
New Orleans, Louisiana

Happy Together Tour
2015
Beach Boys
Freedom Hill Amphitheatre e
Sterling Heights, MI
August 14, 2014
Pop Culture
Interview with Paul
October 14, 2014
Elysian Fields Forever
Susan Cowsill
Tipitina's - New Orleans
October 9, 2014
Susan
and the Bonas Brothers
2010
Retro Weekend
Atlantic City, New Jersey
September 8, 2014
The Cowsills
Arcada Theater
St. Charles, Illinois
December 5, 2014
Beach Boys
L'Olympia Theater
Paris, France
November 21, 2014
Oh Crap, It's Christmas
Susan Cowsill
Cafe Istanbul
New Orleans, LA
December 21, 2014
Vince Vance's Annual
39th Birthday Party
Benefit for Children's Hospital
Pediatric Cancer Unit
Susan and Russ
Rock n' Bowl
New Orleans
January 11, 2015
Covered In Vinyl
Blue
by Joni Mitchell
Chickie Wah Wah
New Orleans
January 31, 2015
Covered In Vinyl
Teaser and the Firecat
by Cat Stevens
Chickie Wah Wah
New Orleans
February 21, 2015
Happy Together Tour
2015
Happy Together Tour
2015
Happy Together Tour
St George Theatre on Staten Island, New York
June 23, 2015
Concert Window's All Stars
2015

Cheyenne Wyoming Frontier Days
July 24-25, 1970


South by Southwest
2015

Beach Boys
2015
Misquamicut Festival
May 9, 2015
Kerry Pub
April 28, 2015
Susan
Filament Theater
July 9, 2014
Hippiefest
Daytona Beach, Floridia
June 19, 2015
Happy Together Tour
2015
Caravan of Stars XV
Henderson, Tennessee
May 17, 2008
Continental Drifters at Tipitinas
New Orleans, Louisiana
September 12, 2015
Continental Drifters at Morgan-Wixson Theatre
Santa Monica, California
September 19, 2015
City of Hope Benefit
Beach Boys Tribute
Bob Cowsill
July 2, 2015
Tommy Tutone
Continental Drifters
Tipitina's
September 12, 2015
CIV - December 2015
Every Picture Tells A Story
Happy Together Tour
2016
Wild Honey Benefit
including Susan
February 16, 2016
Happy Together Tour
2016
Orange County (CA) Fair
Harper College
Palatine, Illinois
July 30, 1971

Family Arena
St. Charles, Missouri
August 6, 2016

Beacon Theatre
New York, New York
June 16, 2016

Family Arena

Hard Rock
Northfield, Ohio
August 24, 2016

Centennial Theater
Sylvania, Ohio
August 25, 2016

Massachusetts Comic-Con
Malbourne, Massachusetts
April 9, 2016

Hungry for Music Benefit
New Orleans, Louisiana
March 27, 2016

Covered In Vinyl
Darkness On The Edge Of Town
April 30, 2016

Hungry For Crawfish
Susan in Alexandria, VA
May 21, 2016

Beach Boys
Dodge City, Kansas
May 19, 2016

Atlantic City Summer Concert Series
Atlantic City, New Jersey
September 8, 2014

Blue Shadows
Starfish Room
Vancouver, Canada
March 4, 1994

Desperado - The Eagles
Covered In Vinyl
Chickie Wah Wah
New Orleans
October 29, 2016

Chickie Wah Wah
New Orleans
October 2016 Schedule

South Shore Music Circuls
July 27, 1969
Happy Together Tour 2017
Mat Poster for Happy Together Tour 2017

Covered In Vinyl Poster
Tumbleweed Connection
January 21, 2017

Family Gras Festival
February 17, 2017
Metairie, Louisiana

Continental Drifters
On Tour
from The Netherlands

Wild Honey Orchestra Plays The Band
Including Susan and The Continental Drifters
March 25, 2017

Wild Honey Orchestra Plays The Band
Including Susan and The Continental Drifters
March 25, 2017

Flower Power Cruise
2018

Concerts At Sea - Alaska Cruise
2018

30A Festival
2015
Susan with The Psycho Sisters
Happy Together Tour 2018

Original Idols
Including The Cowsills
Susan's new Echoes of Laurel Canyon series
Happy Together Tour 2018
Wild Honey Concert
February 17, 2018
Bogart's
1994
Note: Listed as Continental Coasters instead of Continental Drifters
Continental Drifters
Tipitina's
May 26, 2018
COOL
1970
Kitsilano 4th Avenue Reunion Fairview Pub
July 28, 2018
A Billy Cowsill Tribute
performed by
Del Cowsill, Jay Johnson, Elmar Spanier and Dave Vidal
Blue Shadows - Rollin' Stone Cabaret
From Rob F. Collection
Blue Shadows - O.C.E. College Gym
Monmouth, Oregon
May 28, 1968 (or 1969)
From Rob F. Collection
Blue Shadows - The Railway Club
From Rob F. Collection
Blue Shadows - Starfish Room
From Rob F. Collection
Happy Together Tour Christmas 2018
Billy playing at Fairview Pub
Vancouver, Canada
April 13-17, 1993
From Rob F. Collection
WBAM Summer Show
July 25, 1969
Montgomery, Alabama
Stars Of The Sixties Tour
Stars of the Sixties
January 31, 2019
Fort Myers, Florida
Robin Seymour New Year's Eve Show
December 31, 1967
HTT
Ryman Auditorium - Nashville
August 7, 2017
Ryman Auditorium
HTT - Nashville, TN
2018
50 Years of Indian Lake
Lewistown, Ohio
March 9, 2019

50 Years of Indian Lake
Lewistown, Ohio
March 9, 2019

Little Queenie Benefit
Chickie Wah Wah-New Orleans
February 23, 2019
Tapestry
Covered In Vinyl
February 22, 2019
Sunshine Day
February 3, 2019
Philadelphia, Pennsylvania
Happy Together Tour
2019


Billy and The Blue Stragglers
February 16, 1992
Cafe Django - Vancouver, Canada
Collection of Rob Frith
Medicine Ball Benefit
Date: 1992 or 1993 or 1994
Collection of Rob Frith


Covered In Vinyl
Susan Cowsill Band
September 21, 2019
Jackson Browne's Late For The Sky

Happy Together Tour
Ryman Theatre
Nashville, Tennessee
July 31, 2019

Jingle Bell Rock
December 23, 1983
Collection of Rob Frith


Novelty Poster
Captain Sad Album
Note: This record never obtained Gold status

Covered In Vinyl
Cowsills with Brian Wilson
January 17, 2020
Miami, Florida

Covered In Vinyl
Susan Cowsill Band
November 7, 2019
Carly Simon's No Secrets

A Very Mary Russmas
December 25, 2019
Band: Russ, Susan, Ryan Cowsill,
Brendon Cowsill, Janson Lohmeyer, Bert Cotton

Covered In Vinyl
Joni Mitchell
Court and Spark
February 1, 2020

Wild Honey Orchestra
Including Susan
February 29, 2020

Family Gras
February 14, 2020
New Orleans, Louisiana

Happy Together Tour 2020

Blue Northern
June 15, 1979
Collection of Rob Frith

December 12, 1969
Wahoo, Nebraska

All Together Now benefit
April 25, 2020
Los Angeles, California